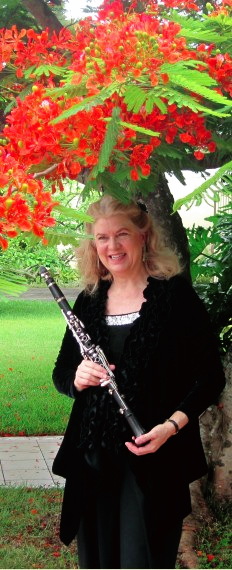 !Welcome to kklarinet, updated as of January of 2023!  Thanks for stopping by!
I came to Puerto Rico for a one-year job back in 1975, and I am still here. It has been a long year! My "year" has been so full of opportunities, challenges, learning and blessings that I think at some point I just may write a book, but for the moment, enjoy your seat under this beautiful flamboyan (flamboyant tree) and I invite you to share some of my world.
The biggest change in my life is that I retired from the principal clarinet chair of the Puerto Rico Symphony.  Having worked from that music stand since August of 1975, the Dvorak New World Symphony we played on my last concert on June 5, 2021 was emotional, with "Pochi" (Emmanuel Diaz Retamar, my student who won his chair in 1999,) at my side.  We, who have the good fortune to sit principal clarinet in an orchestra, must agree with Stanley Drucker's statement that it is "the best seat in the house."  (May he rest in peace, a titan among musical giants.)
I have wonderful memories of great concerts and operas under the batons of master musicians such as Rafael Fruhbeck de Burgos, David Shallon, Anton Guadagno, and Sergiu Comissiona, and working with soloists like Lynn Harrell, Yo Yo Ma, Itzhak Perlman, Alicia de Larrocha and Yefim Bronfman.  I won't try to mention fabulous colleagues within the Orquesta for fear of omission, but I have to pay tribute to the Figueroa brothers, Pepito, Kachiro, Guillermo and Rafael, who showed me, by example, how to be a good orchestra member.  Their children are revered in the current music world.  Music directors, for me, started with Chilean Victor Tevah, and ended with Chilean Maximiano Valdes, with Sidney Harth, John Barnett, Odon Alonso, Eugene Kohn, and Guillermo Figueroa in between.  I have eternal gratitude for the opportunity of my life, playing principal clarinet in the Orquesta Sinfonica de Puerto Rico for more than four decades.
The chair is in good hands:  Andres Maldonado played beautifully and won the audition on February 15, 2022.  He is a talented, well trained (student of Oskar Espina de Ruiz,) serious young player, and was soloist with the PRSO on January 21, 2023 in the Debussy Rhapsody and the Copland Concerto, to thunderous ovations.
I am still teaching at the Conservatory of Music of Puerto Rico, back, on contract, after my retirement in 2009, and now have time to look back on the years since my arrival in 1975.  My current project is to preserve some of the concerts my colleagues and I played in the first 20 years of Camerata Caribe, a group formed in residence at the CMPR 1982.  Please enjoy the first publication of Camerata Caribe 1983-2003, a CD titled "Meet Lotta Maria Hertlein Riefkohl."
I have other recordings available  for purchase and download: "Caribe Clarinete," the Voxman Selected Studies, and others. (see the Recordings tab.) New on the tab is the Music Store, from which you can download the recordings.  Also available are wonderful recordings made by the Coro de Clarinetes del CMPR; any proceeds go to the Beca Don Jesus Figueroa scholarship fund.
Thanks for stopping by kklarinet.com!!  !Tu casa!