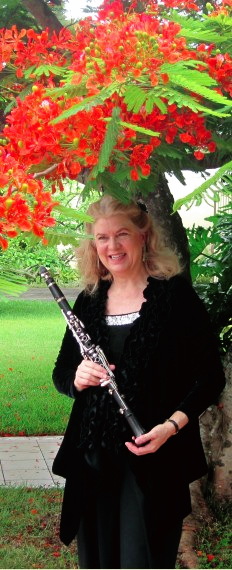 I came to Puerto Rico for a one-year job back in 1975, and I am still here. It has been a long year! My "year" has been so full of opportunities, challenges, learning and blessings that I think at some point I just may write a book, but for the moment, enjoy your seat under this beautiful flamboyan (flamboyant tree) and I invite you to share some of my world.
My passion, for as long as I can remember, has been playing principal clarinet in a symphony orchestra. I feel blessed to be one of the few who has earned a living for 40-plus years doing that (in the Puerto Rico Symphony Orchestra—Orquesta Sinfonica de Puerto Rico.)
I also love teaching (being a third-generation music teacher…) and enjoyed a tenure of 31 years doing that (at the Conservatory of Music of Puerto Rico—Conservatorio de Musica de Puerto Rico,) until my retirement in 2009. When my successor at the CMPR, Oskar Espina de Ruiz, left in 2011 to accept a position at the University of North Carolina School of the Arts, our then-Assistant Dean, Brian Cole, asked if I'd come back to teach on contract for "a few hours."
Okay.
So, here I am again—almost full time at the CMPR, and still in the principal chair of the PRSO. My website postings took the hit. But I'll try to catch up a bit now, and will send future updates as my schedule allows.
So, to see what's new since I went into hibernation in 2011, please see the updates at the left.
What's the same is, I am still faithfully sitting in that PRSO principal clarinet chair, 6:30 to 9:30 p.m. Monday through Friday, with Saturday concerts, from August through June. In addition, I play solos, chamber music and participate in Casals Festivals and ClarinetFests. Since I returned to teaching, I have worked with my students to form a Clarinet Choir (Coro de Clarinetes del CMPR–check their FaceBook page,) which has participated in ClarinetFests in Baton Rouge, Lawrence and Orlando, playing music from Puerto Rico.
It has been my great pleasure to premiere dozens of works by local and international composers, especially during my 27 years in Camerata Caribe, a flute, oboe, clarinet, bassoon and piano group in residence at the CMPR.
I have recordings available: Caribe Clarinete, the Voxman Selected Studies, and others. (see the Recordings tab.) New on the tab is the Music Store, from which you can download my recordings. Now available also are wonderful recordings made by the Coro de Clarinetes del CMPR!
Thanks for stopping by kklarinet.com!! Tu casa!