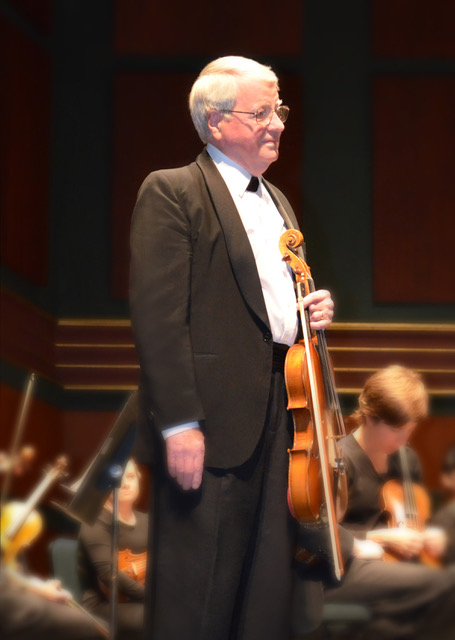 In the more-than-50 years that I have been playing principal clarinet in an orchestra, starting with my seventh-grade Spencer Butte Junior High experience with the highly capable Norma Bryant, I have had the privilege of working with some truly great masters of that mysterious, elusive instrument, the conductor's baton.
Let's start with the most internationally famous—Sir Georg Solti, Seiji Ozawa, Julius Rudel, David Shallon, Anton Guadagno, Sergiu Comissiona, Rafael Fruhbeck de Burgos, Kurt Herbert Adler, Giancarlo Guerrero, and then work our way out west, to Daniel Lewis (at USC,) his student George Pehlivanian, and north to Vilem Sokol (Seattle Youth Symphony,) and his student Nathan Cammack (Eugene Junior Symphony.)
Nathan Cammack's passing in my home town of Eugene, Oregon on September 24, 2018 at the age of 87 is the provocation for this writing. Here is the link to Mr. Cammack's obituary in the Register Guard.
My sister Evie, a flutist alumnus of the Eugene Junior Symphony, heard that "our beloved Mr. Cammack" had gotten his wings and began spreading the word. The truth must be told—this man had a profound, positive effect on dozens, probably hundreds, perhaps thousands of youngsters in Oregon's second largest city, starting back in the 1960's. He provided a safe, healthy, demanding stage on which our love of music took root and blossomed, inspiring some of us to pursue music performance as a career. With good humor and respect, Mr. Cammack used his ability to evoke beautiful phrases from us bean-picking, bicycle-riding youth. Monday night rehearsals were sacrosanct—even if we weren't feeling well, we were expected to be in our chairs. We were needed, and there was no excuse, except true incapacity. He was a violinist, and knew how to talk to the strings—"one hair over the fingerboard," he'd say when he wanted something really soft. And to all of us, he gave great and simple wisdom that continues to serve me well to this day—"listen to the soloist; if YOU can hear them, the audience will hear them."
He didn't even use a baton, but, rather, shaped the air with his hands. We knew what he wanted us to put out into the air, each of us from our chair, to make a whole, blended sound. How does that happen? After more than 50 years and thousands of concerts I can't explain it. But it does happen. At least with great conductors, like Mr. Cammack. May he rest in peace in celestial harmony. And thank you.
Kathleen Jones
Principal Clarinetist, Orquesta Sinfonica de Puerto Rico since 1975
SEHS 1970
October 8, 2018