The Coro de Clarinetes del CMPR (the Conservatory's Clarinet Choir) has made recordings of 11 works by local composers.
The choir's recordings are $1 per download, and all proceeds go to the Beca Don Jesus Figueroa, the scholarship fund which supports trips to ClarinetFests and the purchase of instruments for the clarinet majors.
The complete collection and the individual tracks are available in the Music Store!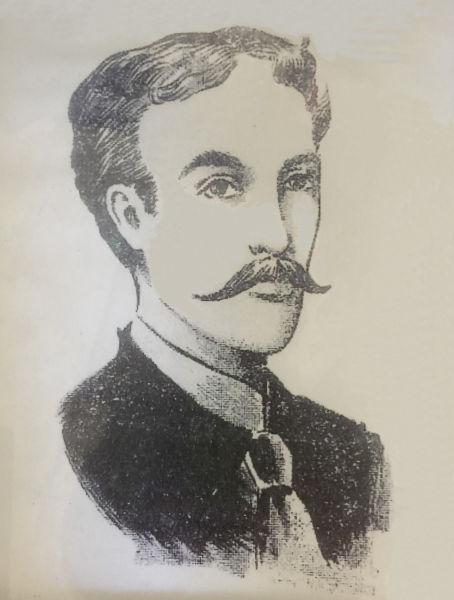 Track 1: Sara, Danza by Angel Mislan, Arranged for A-clarinet and piano
by David Bourns, Adapted for Clarinet Choir by Jubal Rosado- Navarro.
Angel Mislan was born in San Sebastian, Puerto Rico in 1862. He studied music in Spain, played clarinet, tuba, and conducted bands. He is one of the best-known composers of Puerto Rican danzas, and "Sara", written around 1890, is one of his most famous. Dedicating it to Kathleen Jones, in 2007 David Bourns arranged this work for the A-clarinet, preferring the warm timbre of this instrument. His version is based on one for piano published by the Institute of Puerto Rican Culture (ICP) and also takes into account an arrangement for string quartet by Guillermo Figueroa (padre), which begins with a cadenza. This version is recorded on Caribe Clarinete, and available for download.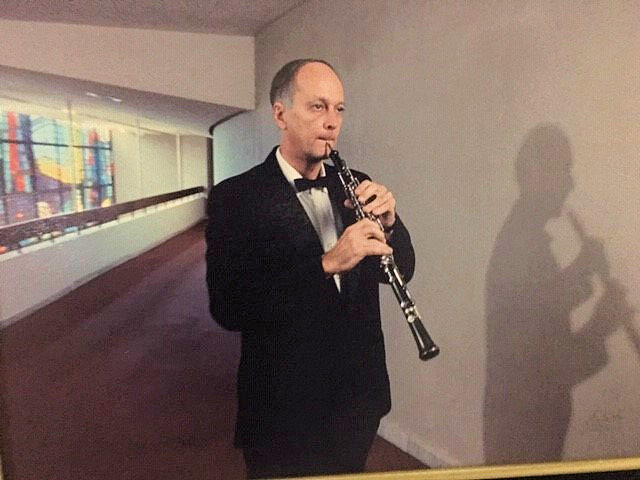 Prof. Bourns received his B.A. in English from the University of Michigan and his M.M. degree in oboe from the Manhattan School of Music, where he was a student of Robert Bloom. He was principal oboe of the Puerto Rico Symphony Orchestra (PRSO) and Professor of Oboe at the Conservatory of Music of P.R. (CMPR) from 1968 to 2006. He performed as soloist with the PRSO on numerous occasions, and was a founding member of Camerata Caribe, a chamber music group of woodwinds and piano in residence at the CMPR. His CD "Caribe Oboe" contains music for oboe and piano by Puerto Rican composers. He is currently retired and living in Orlando, FL, where he and his wife, Nedis, enjoy visiting their children and grandchildren, gardening, swimming, reading and travel. His Collected Poems was published by BookLocker in 2017.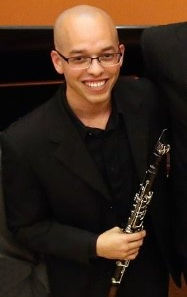 Jubal Rosado Navarro (b.1986)
Clarinetist, saxophonist, arranger and composer, born in Caguas, Puerto Rico. He began his musical studies at the age of six in the Antonio Paoli Free School of Music in Caguas, studying with Professor Rafael Bracero. In 2004 he graduated with a bachelor's degree in clarinet performance from the Conservatory of Music of PR, having studied with Kathleen Jones and Oskar Espina. Jubal is currently a member of the Northeast Navy Band, in Newport, Rhode Island.
Track 2: "Acordes Cotidianos", by William Ortiz, (b. 1947)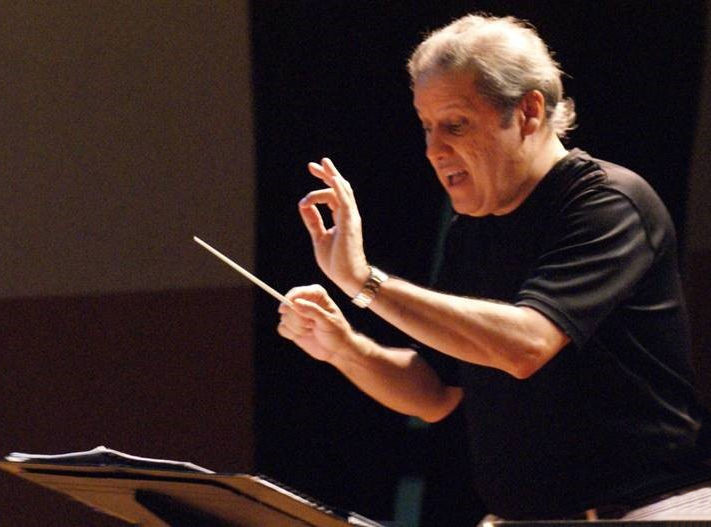 The composer's notes about this interesting work are:
"Written in 2003 for the clarinets in the Band of the University of Puerto Rico, Bayamon. It uses melodies and counterpoint to create interactions of chords between the four B-flat clarinets, producing in general an effervescent sonority.
Also, the piece demonstrates the versatility of the clarinet, exploring possibilities of timbre, and different registers. The work invites the ear to smile, sing and dance."
The four clarinetists playing in this recording are: Victor Carrion-Morales, Veronica Burgos-Perez, Laura Correa-Vallejo, and Omar Torres-Flores
Dr. William Ortiz was recently awarded the Albert Nelson Marquis Lifetime Achievement Award by Marquis Who's Who. He is a retired professor from the University of Puerto Rico, and a composer of renown, with many of his works recorded.
Track 3: "In Paradisum," by Alberto Guidobaldi, (b. 1967)
For Soprano and Clarinet Choir
Composed in memory of the victims of the Pulse Nightclub, in Orlando Florida, June 12, 2016. The work uses the traditional liturgical text in Latin, describing the arrival of the souls in Paradise. Premiered in Orlando, FL at ClarinetFest 2017 by Deborah Rivera, soprano, with the CMPR Clarinet Choir, Kathy Jones director.
The composer's notes:
Para Soprano y Coro de Clarinetes. Compuesta en memoria de las víctimas de la discoteca "Pulse" en Orlando Flórida. Utiliza el texto litúrgico tradicional en latín que describe la llegada de las almas al Paraíso. Estrenado en Orlando, FL en 2017, Deborah Rivera, Soprano, Coro de Clarinetes del CMPR, Kathy Jones, directora.
Track 4: "Tiripitápate", by Alberto Guidobaldi, (b. 1967)
This work is written in the style of a Puerto Rican danza, and was composed originally for piano, winning second prize in the 2015 M.G. Tavarez Danza Competition, sponsored by the Institute of Puerto Rican Culture. The composer arranged it for Clarinet Choir in 2016, and it was premiered by the Coro de Clarinetes del CMPR at ClarinetFest in Lawrence, Kansas.
The composer's notes:
Danza Puertorriqueña Festiva. Arreglo para coro de Clarinetes.
Compuesta originalmente para piano, en 2015 obtuvo el Premio M. G Tavárez (2do lugar) en el certamen de composición de danzas del Instituto de Cultura Puertorriqueña.
Track 5: "3-Minute Rag", by Alberto Guidobaldi, (b. 1967)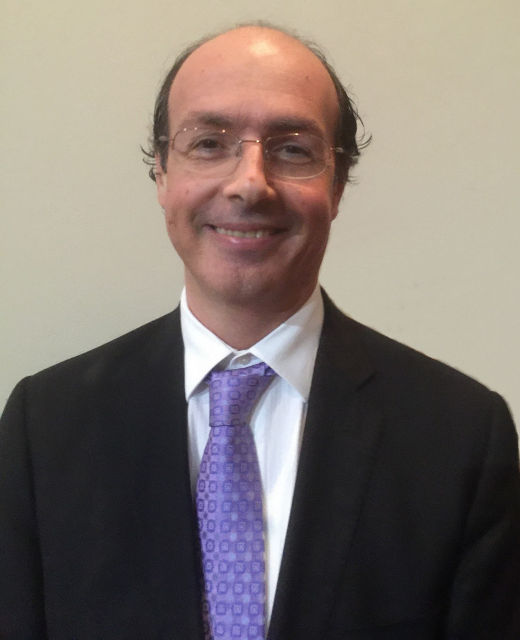 This is our signature work, a ragtime composed in 2014 for the Coro de Clarinetes del CMPR premier at ClarinetFest in Baton Rouge, Louisiana.
The composer's notes:
Ragtime para coro de clarinetes, compuesto en 2014 para el Coro de Clarinetes del CMPR, estrenado durante el Clarinet Fest 2014 en Baton Rouge, Louisiana.
Alberto Guidobaldi, born in Italy in 1967, has resided in Puerto Rico since 1993. His musical studies began in the "Scuola di Musica Arturo Toscanini" in Savona, Italy, studying piano and accordion.
In June 2006, he was graduated Summa cum Laude from the Conservatory of Music of Puerto Rico (CMPR) with a bachelor's degree in composition, under the guidance of Professors Armando Ramirez, Alfonso Fuentes, Sonia Morales and the late professor Roberto Milano. He completed his master's in music education at the CMPR in 2014.
Guidobaldi is an active performer and composer. His classical compositions include many choral and chamber music works, an opera buffa (premiered in 2006,) and a symphonic poem (premiered in 2005 by the Puerto Rico Symphony Orchestra.)
He was the winner of the 2005 Fanfare for Brass and Percussion Composition Competition at the CMPR, and the 2012 National Flute Association Flute Choir Composition Competition. "The Adventures of Pinocchio" received honorable mention in the 2014 International Clarinet Association Composition Competition.
He has been on faculty at the CMPR since 2010, teaching music theory, sight singing and Italian.
Track 6: "Colors of the Rainbow", by Armando Ramirez (b. 1970)
This is a work that arises from the events that occurred at the night club Pulse in Orlando, FL in 2016.
The tragic event took the lives of 49 victims at the hands of an assassin, whose motives are still unknown, but obviously were influenced by evil and hatred.
None of the victims imagined that this could occur on North American soil. The great majority were there for curiosity, for routine, for celebrating and letting go a bit of their daily work life. The work revolves around seven victims, selected at random from biographies published in the press, representing the seven colors of the rainbow (the symbol of the gay community.) There are seven sections of about one minute, each representing one of the victims, in the following order: Red (Vibrancy), Green (Nature), Indigo (Infinity), Yellow (Wisdom), Violet (Spirituality), Orange (Creativity), and Blue (Divinity). The work was premiered at ClarinetFest 2017 in Orlando.
The composer's notes are:
"es una obra que plasma los eventos ocurridos en el 2016 en la club nocturno The Pulse. El club nocturno se localiza en Orlando, Florida EU. Este trágico evento cobró la vida de 49 victimas a manos de un asesino que aun se desconocen sus razones, pero obviamente estaban influenciadas por la maldad y el odio.
Ninguna de sus víctimas imaginó que esto podría ocurrir en suelo norteamericano. La gran mayoría compartían por curiosidad, por rutina, por festejar y despejar un poco su vida diurna de trabajo.
La obra gira alrededor de 7 víctimas seleccionadas al azar, representando los 7 colores del arcoiris (símbolo de la comunidad gay). Tendrá una división de 7 secciones de aproximadamente 1 minuto cada uno. Esto resulta en una duración cerca de los 7 minutos en su totalidad."
Orden de los movimientos/colores:
Red: Vibrancy
Green: Nature
Indigo: Infinity
Yellow: Wisdom
Violet: Spirituality
Orange: Creativity
Blue: Divinity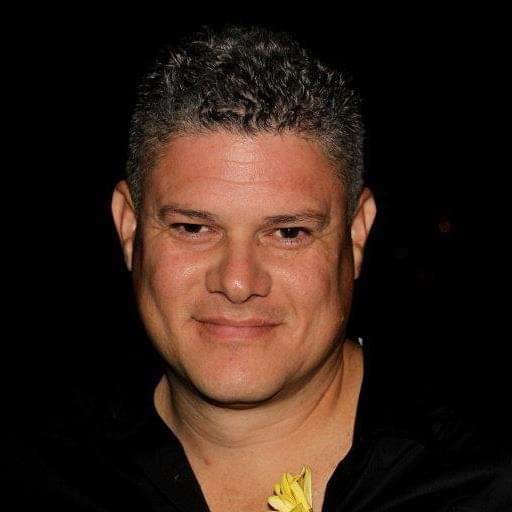 "Latin Night was wrapping up at Pulse around 2 a.m., as about 320 people danced and drank to thumping reggaeton, salsa and merengue" – Joe Mozingo, Matt Pearse and Tracy Wilinson, Los Angeles Times"
Armando Luis Ramirez holds bachelor of music degrees from the Puerto Rico Conservatory in Theory and Composition and Music Education, and a master of music degree in composition from Temple University. He has written dozens of works for diverse instrumental combinations, premiered in San Juan and Philadelphia, among other places.
Currently, Ramirez is a tenured member of the theory and composition department at the Puerto Rico Conservatory of Music, where he teaches theory courses at all levels, orchestration, form and analysis and composition. He has created diverse courses such as Beethoven and his Nine Symphonies, Igor Stravinsky's ballet music, as well as a specialized course about the Music of the Beatles.
Track 7: "Introspeccion" by Jeriel Mercado-Acevedo (b. 1992)
This work won first prize in the 2016 CMPR Composition Competition when Jeriel was in fourth year of his bachelor's degree studies in composition. Its full title is "Introspeccion: Despojo de un alma rota," or "Introspection: Remains of a broken soul." The work was premiered by the CMPR Coro de Clarinetes at ClarinetFest 2016 in Lawrence, Kansas. Jeriel is currently pursuing a master's degree in Topeka, Kansas.
Track 8: "Punto de Encuentro" by Ketsia Cardona-Pellot (b. 1987)
This work won second prize in the Conservatory's 2016 Composition Competition. It is inspired by a group of young people in the Christian church God Always Present. The melodies and rhythms, with jazz influences, represent the personalities which unite to create harmony and rhythms that complement each other, although with differences.
The composer's notes:
La composición "Punto de Encuentro" fue seleccionada como ganadora del 2ndo lugar en el Certamen de Composición del Conservatorio de Música de Puerto Rico en el 2016. Está inspirada en un grupo de jóvenes de la Iglesia Cristiana Dios Siempre Presente. Las melodías y ritmos con influencias del jazz, representan sus personalidades que unidas crean armonías y ritmos que se complementan aun con sus diferencias.
Track 9: "Always a Kid" by Ketsia Cardona-Pellot (b. 1987)
Always a Kid was composed in 2017 for the CMPR Clarinet Choir. It was inspired by the world of children, where curiosity and joy join to foment constant learning, an attitude that we should always have. One of the most emotional parts of the work is when the clarinets imitate the sound of laughter. When you listen to the piece, think of jumps, games, dances and laughter surrounded by moments of suspense and surprises.
The composer's notes:
La obra "Always a Kid ' fue compuesta en el 2017 para el Coro de Clarinetes del Conservatorio de Música de PR. Fue inspirada en el mundo de los niños, donde la curiosidad y la alegría se juntan para alcanzar el aprendizaje constante,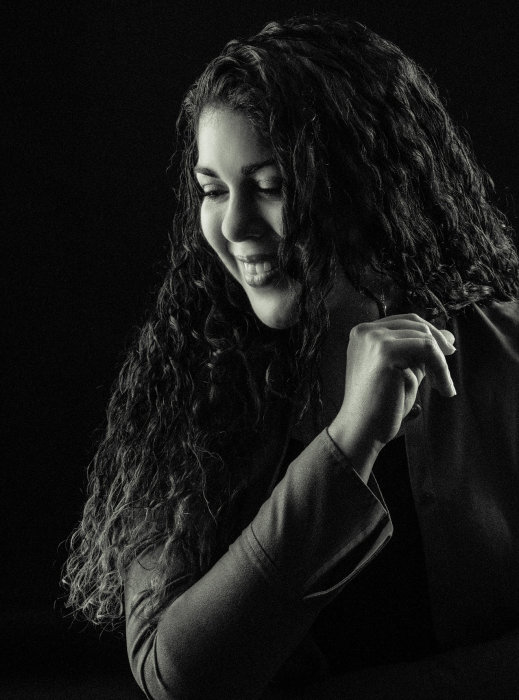 una actitud que siempre debemos tener. Una de las partes más emocionantes de la obra es cuando los clarinetes hacen el efecto de risas. Cuando escuchas la pieza, piensas en saltos, juegos, bailes y risas en medio de momentos de suspenso y sorpresas
Ketsia J. Cardona Pellot es una compositora y cantautora puertorriqueña. Realizó un bachillerato en Composición Musical en el Conservatorio de Música de Puerto Rico siendo galardonada con la medalla de Composición. Además tiene un Bachillerato en Psicología y en Música de la Universidad de PR. Su música ha sido presentada en diferentes eventos como el Festival de Percusión del Conservatorio de Música de PR, Clarinet Day, Clarinet Fest, Descolonizando la Música, entre otros. Ha compuesto música para cortometrajes que han ganado premios en festivales de cine. En dos ocasiones recibió el ASCAP Plus award. Ganó el 2do lugar en el 3er Certamen de Composición Musical del Conservatorio de Música de PR. Actualmente se encuentra componiendo música y ejerciendo como maestra de música y de canto popular.
Track 10: "Mosaico", by Julio Quiñones (b. 1996)
This work won third prize in the 2016 CMPR Composition Competition when Julio was in second year bachelor's degree studies in composition. The work was premiered by the CMPR Coro de Clarinetes at ClarinetFest 2017 in Orlando. Julio is currently completing his studies at the CMPR.
Track 11: "Cascadas" by Carlos Lamboy (b.1986)
This work was written for the Coro de Clarinetes del CMPR and premiered at ClarinetFest 2016 in Lawrence, KS.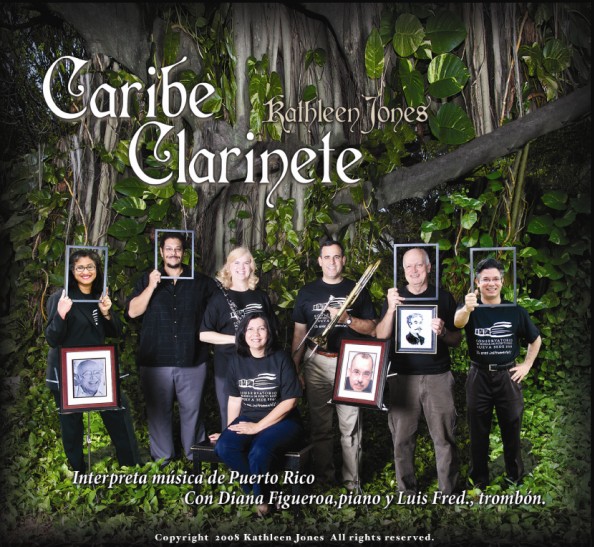 Caribe Clarinete
This is a unique and varied collection of seven works for clarinet by Puerto Rican composers, blending classical and Latin styles. The first and last tracks are traditional "Danzas," the latter depicting teenagers (the clarinet being the girl, and the trombone a boy) flirting over the internet. Three works are for clarinet alone: "Voces del Barrio," (which sounds like salsa, montuno, and plena at times,) the meditative "Crepúsculo," and Roberto Sierra's evocative "Cinco Bocetos." The other two selections are a sonata based on folk idioms, and a character piece. Notes in English and Spanish give the listener a better appreciation of this fascinating repertoire.

Caribe Clarinete was recorded in 2007-08, during a sabbatical Ms. Jones was granted by the CMPR, and was produced with additional support from the Institute of Puerto Rican Culture and the Luis A. Ferre Fine Arts Center. CMPR colleagues Diana Figueroa, piano, and Luis Fred, trombone, collaborate.
Voces del Barrio, by Alfonso Fuentes, received a 2009 Latin Grammy nomination in the category of Best Classical Work of the Year.
Samples of all tracks are available in our Music Store
In March of 2009, Caribe Clarinete was ranked fifth of the 20 most outstanding Puerto Rican 2008 recordings by the National Foundation for Popular Culture, based in San Juan. Read on from their press release! (English translation follows)
Producciones mas sobresalientes de Puerto Rico 2008
jueves 5 de marzo de 2009
San Juan, Puerto Rico – La Fundación Nacional para la Cultura Popular dio a conocer su selección de las 20 producciones discográficas.
…
5. Kathleen Jones: Caribe Clarinete — Productor: Kathleen Jones — Kklarinet
…
Desde hace décadas, el clarinete ha sido echado a menos como instrumento estelar en el ambiente discográfico nacional. Las grabaciones que destacan su sonido agudo y dulce son escasísimas. Por eso, este trabajo es tan importante. Más aún si la ejecutante es nada menos que la profesora de este instrumento en el Conservatorio y miembro prominente de la Sinfónica de Puerto Rico. El repertorio consiste de seis obras clásicas de compositores puertorriqueños, más un bello arreglo para clarinete y piano creado por David Bourns de la danza "Sara", de Ángel Mislán. La pianista Diana Figueroa y el trombonista Luis Fred comparten con la profesora Jones en este maravilloso trabajo.
20 most outstanding Puerto Rican productions of 2008
Thursday, March 5, 2009
San Juan, Puerto Rico—The National Foundation for Popular Culture made known its selections for the 20 outstanding recording productions
…
5. Kathleen Jones: Caribe Clarinete — Producer: Kathleen Jones — Kklarinet
…
"For decades, the clarinet has been missed as a star instrument in the national discographic ambience. The recordings that highlight its high and sweet sound are very rare. Because of this, this work is so important. Further, the performer is no less that the professor of this instrument in the Conservatory and a prominent member of the Puerto Rico Symphony. The repertoire consists of six classic works by Puerto Rican composers, plus a beautiful arrangement for clarinet and piano created by David Bourns of the danza "Sara" by Angel Mislán. The pianist Diana Figueroa and the trombonist Luis Fred share with Professor Jones in this marvelous work."
The complete album and individual tracks can be downloaded in our Music Store
Order the Caribe Clarinete CD directly from this website!
Price: $ 15 plus $ 5 shipping and handling.
(USA & Puerto Rico only – please contact me for shipment to other countries.)