The PRSO's fourth subscription concert was a wild success under the baton of our Principal Guest Conductor, Guillermo Figueroa, with his sister, Ivonne, as soloist in the Third Piano Concerto by Saint-Saens.
Roberto Sierra's lively Third Symphony (La Salsa) opened the program, which concluded with Tchaikovsky's passionate Francesca da Rimini. It was wonderful working with the two of them—Guillermo was the PRSO's music director for six years, taking the orchestra to Carnegie Hall, Kennedy Center and to Spain.
Ivonne was the pianist when I played in Carnegie Recital Hall in 1977 (see Scrapbook.)
Here we are back stage at our Sala Sinfónica on Nov. 13, 2010.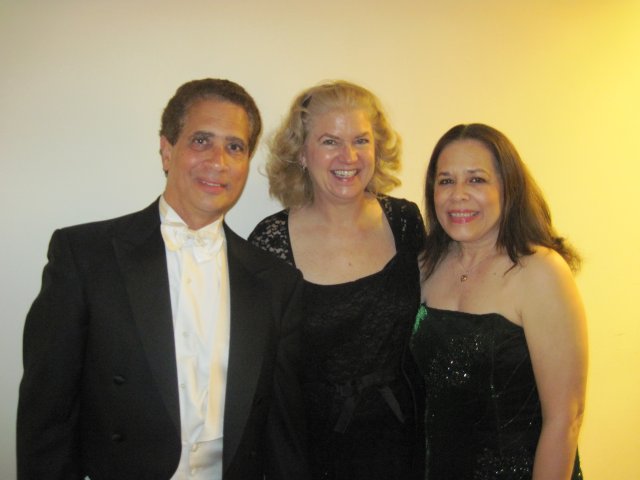 Here I am with Karen Gomyo, who had just finished a fabulous Prokofiev's Second Violin Concerto on opening night of our subscription season, September 11, 2010. Sala Sinfonica, backstage.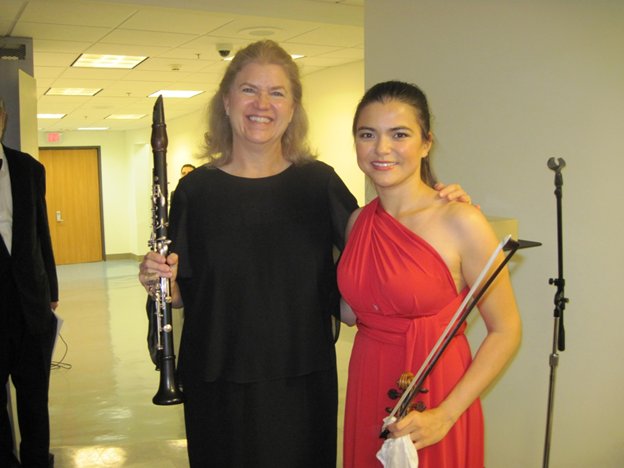 And here I am on October 24, 2010, in front of the rocking trumpet section, in our second concert with salsa legends Richie Ray and Bobby Cruz. From left, Rafi Parilla, Luis Bermudez, and invited guest, Julito Alvarado. The Puerto Rico Symphony Orchestra—we do it all!
Photo by John Marquez, our librarian, from the balcony of Sala Sinfonica.