Performances at ClarinetFests
If anyone reading this doesn't know about the International Clarinet Association, which is a tremendously positive organization for clarinetists, I recommend they visit www.clarinet.org. The ICA's two biggest contributions are The Clarinet, a quarterly publication edited by Jim Gillespie, and the annual international conference, ClarinetFest. The ClarinetFests are held in a different city every year—2010 was in Austin, Texas; 2011 is to be held at Cal State Northridge, and 2012 will be in Lincoln, Nebraska.
I have been pleased to perform at seven ClarinetFests, presenting some world premieres and many works from Puerto Rico. The following is a list of my participation to-date in concerts at the Fests (the * denotes a world premiere):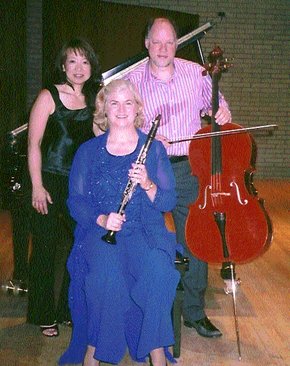 Kansas City 2008: Danza Sara; Milano, Concertino for Clarinet and Strings, arr. for piano acc.* ; Fuentes, Klarinet 3.2*; Harvey, Puerto Rican Suite; Morales, Divertimento Caribeño #2 (with bongos)*
Vancouver, B.C. 2007: Bruch, three of the Eight Pieces; Beethoven, Trio, Op.11, with University of British Columbia professors Patricia Hoy, piano, and Eric Wilson, cello, pictured here after our July 5, 2007 performance. I was thrilled to perform with these two wonderful musicians, whom I sought out because Eric plays on a cello called the Orphic Voice, which my father, W. Howard Jones, had built by David Burgess in Michigan in 1992-93. The three of us had a great time playing together: it is clear to me that Dad's cello is in good hands!
Atlanta 2006: on the Mitchell Lurie Tribute concert: Morales, Introspection; and Fuentes, Voces del Barrio*
Norman, OK 2000: Delano, Tres Payasadas; Hertlein, Homage
Lubbock, TX 1997: Delano, Sonata
Seattle, WA 1986: Smith, Five Pieces; Harvey, AC/DC*
London 1984: Sierra, Cinco Bocetos*
Some of these works are now recorded on my CD Caribe Clarinete (see Recordings) and all of the music can be obtained through Luyben Music by visiting www.Luybenmusic.com.
In addition, I also attended the ClarinetFests in Washington, DC 2004; Salt Lake City 2003; Paris 1996; Cincinnati 1992; Paris 1981; Toronto 1978; and Denver in 1976 and 1980. The Fests are inspirational and fun—not to be missed if possible!
The Kansas City Fest was especially nice because it was held near Luyben Music, which has been a treasure trove for ordering clarinet music since Annette's parents, Annette and Bob, established the store decades ago. We wanted to give Annette a little surprise, so the day before the Fest began, our Puerto Rico contingent appeared at the store and gave a serenade—three movements from Paul Harvey's Puerto Rican Suite, two of which were captured by Luyben's in-house trombonist, Rich Coble. Listen here to some of Preciosa and El Cumbanchero, as offered to our dear friends in Luyben Music.
Performers are: Dawn Lindblade on E-flat, myself on 1st; Emmanuel Diaz (Pochi,) on 2nd , Cristina Rodriguez on 3rd, Noel Marcano on alto, and Luis (Tripi) Flores on bass.
Preciosa
El Cumbanchero
Kathy and "el gato," finishing up the Puerto Rico Symphony Orchestra season with a performance of Pedro y el Lobo (Peter and the Wolf,) June 12, 2010, at the Centro de Bellas Artes in Santurce, PR, Sala de Festivales;puppets provided by Titeres Cibuco, affiliated with the Institute of Puerto Rican Culture.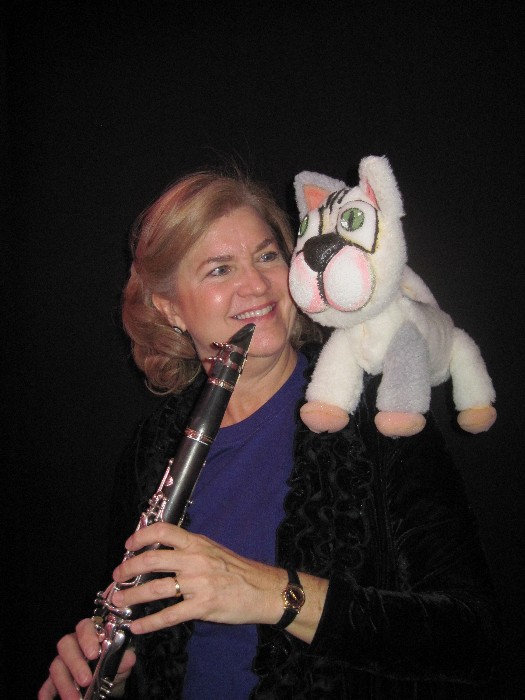 Kathy with the members of the Pacifica Quartet, March 7, 2010, after a performance of Luis Enrique Julia's Quintet for Clarinet and Strings in the Casals Festival.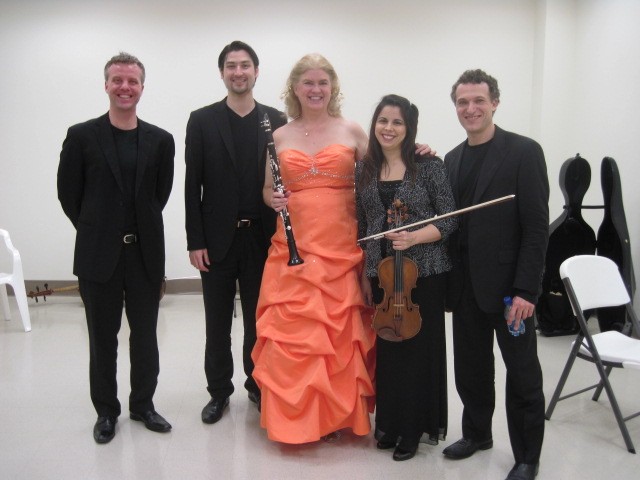 Roselin Pabon, Associate Conductor of the Puerto Rico Symphony Orchestra, in the finale of the Three Kings Day concert, January 5, 2010, with the young
soloists, including violinist Paola Vazquez (in the blue dress.) Kathy is back there in the clarinet section.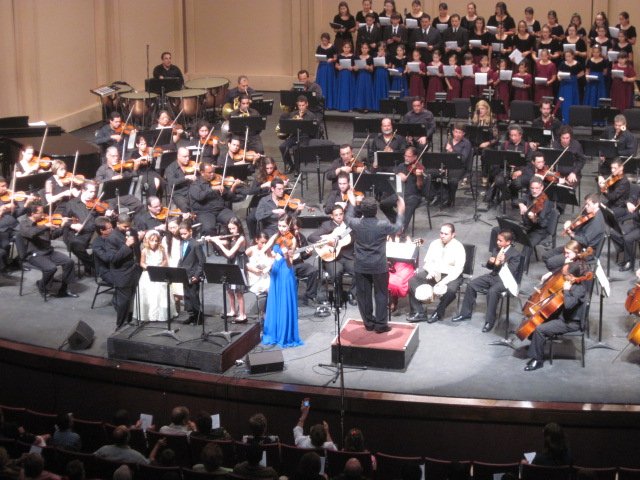 Kathly and Puerto Rican pianist extraordinaire Ivonne Figueroa, taking a bow at the conclusion of our recital in Carnegie Recital Hall, February 7, 1977
Composer Paul Creston and his wife attended my recital at Central Washington University in Ellensburg, WA in August of 1975, accompanied by Professor Bonnie Bricker-Smith, pianist, at far right.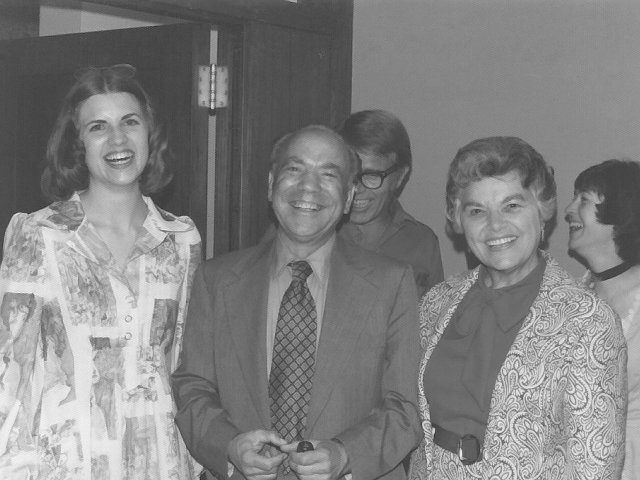 Here I am with my ebullient teacher Leon Russianoff, just after finishing my recital in College Parlor, Barnard Hall at Columbia University, January 23, 1975. Leon was so enthusiastic with us–he used to say "I've got the greatest students in the world!"