December 2015:
PRSO: Dec. 19th we play our 7th (sold-out) Star Wars concert. Here I am in Sala Sinfonica tickling the toes of one of our guests.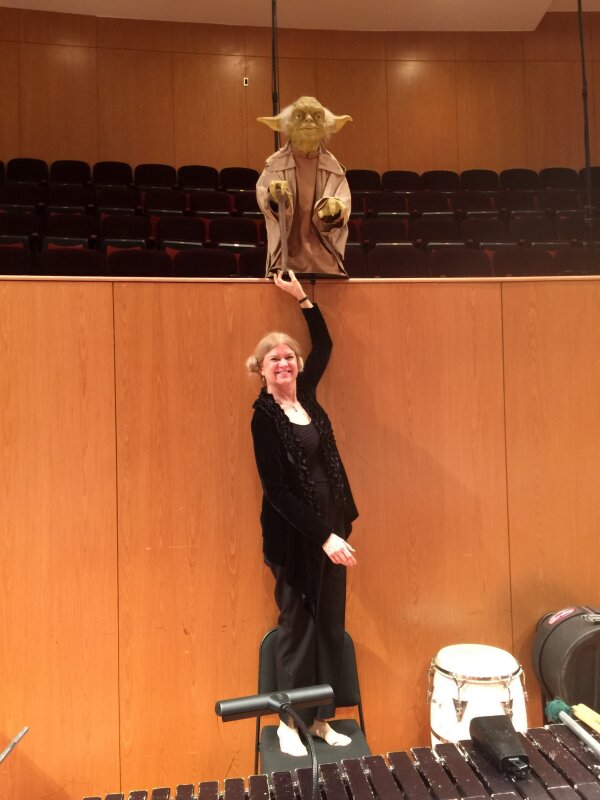 PRSO: Dec. 5th Mozart's Cosi Fan Tutte, produced by Teatro de la Opera, with fantastic local talent, one of whom (soprano Meechot Marrero) now has a contract in a German opera house—yahoo!
CMPR: Dec. 4th—Jonathan Cosme and Janice Rivera Montes shared a junior recital: Together they played the Brahms, Hungarian Dance #5 transcribed as a duet; Jonathan's repertoire was Danzi, ConcertPiece #2; Milhaud, Duo Concertante; and Honegger, Sonatine. Janice's repertoire was Bozza, Fantasie Italienne; Goepfart Quartet for Winds, Op. 93, 1st movement; and Kovacs, After you, Mr. Gershwin!
Here are pianist Jorge Ramos, Janice and Jonathan.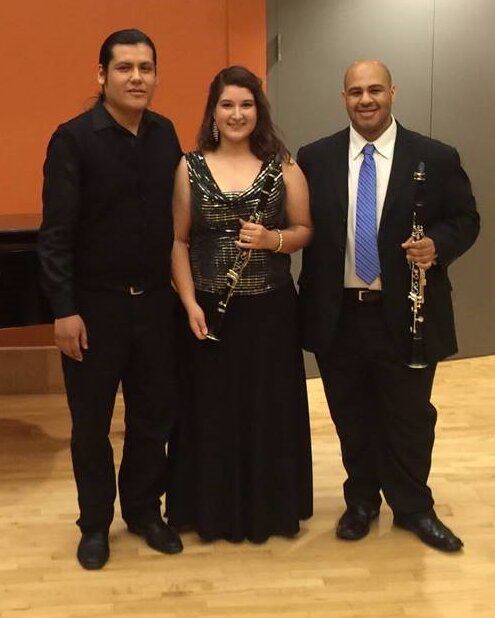 November 2015:
PRSO: we played four sold-out Star Wars concerts—two on Nov. 29th, and one each on Nov. 20 and 21. Puerto Rican audiences LOVE John Williams and the Star Wars films!
PRSO: The sixth subscription concert of this season, November 14th, we will never forget. The scheduled guest conductor (Traub,) cancelled at the last minute. George Pehlivanian, an American based in Paris, was available and flew in on short notice. The program was Mozart's bassoon concerto, with our principal, Adam Havrilla, and Shostakovich #10. After the break of our dress rehearsal on Friday, Pehlivanian returned to the podium, shaken. His wife had called to tell him about the Paris terrorist attacks. Although many of the string players were scheduled to leave rehearsal early because of the reduced numbers needed for the Mozart Concerto, our guest asked if all the strings would stay until the end, so he could do one rehearsal of Barber's Adagio for Strings to open the concert the following night. All the strings stayed. The performance of the Barber on Saturday was extraordinarily beautiful and emotional. We all hope this wonderful conductor will return one of these days. He, as I, is a University of Southern California graduate, and worked extensively with Daniel Lewis there.
October 2015:
PRSO: Oct. 30 and 31st were the first two of our sold-out Star Wars concerts.
PRSO: Oct. 22 and 24—Madame Butterfly with the lovely Ana Maria Martinez starring and Maximiano Valdes conducting us in the pit.
CMPR: Oct. 18th— Vincenzo Palermo's Blue Textures, duo for clarinet and harp, performed with Elisa Torres on a Camerata Caribe concert. We later recorded it and it is available to see and hear on the composer's website. Also on that Camerata concert, Alfonso Fuentes' K.2, three duos for two clarinets in Latin style, which I premiered at the Kansas City ClarinetFest 2008 with Emmanuel Diaz, Noel Marcano and Dawn Lindblade. On this, 2015, occasion my cohorts were former students Jubal Rosado, Erika Silva and Liza Nazario.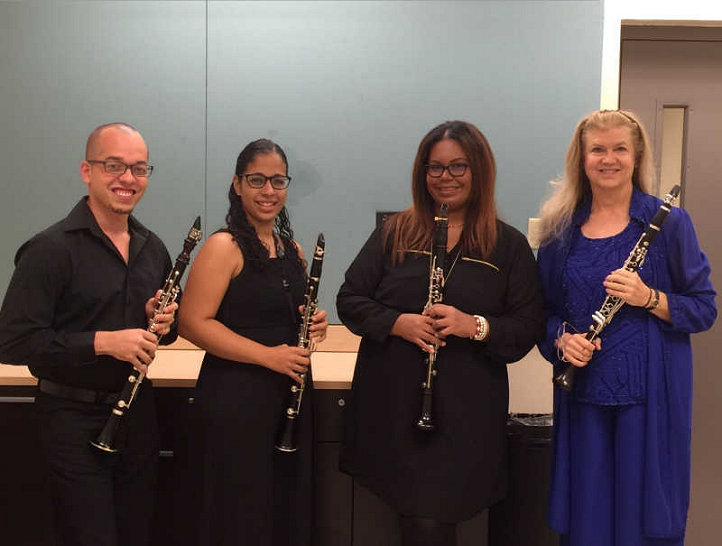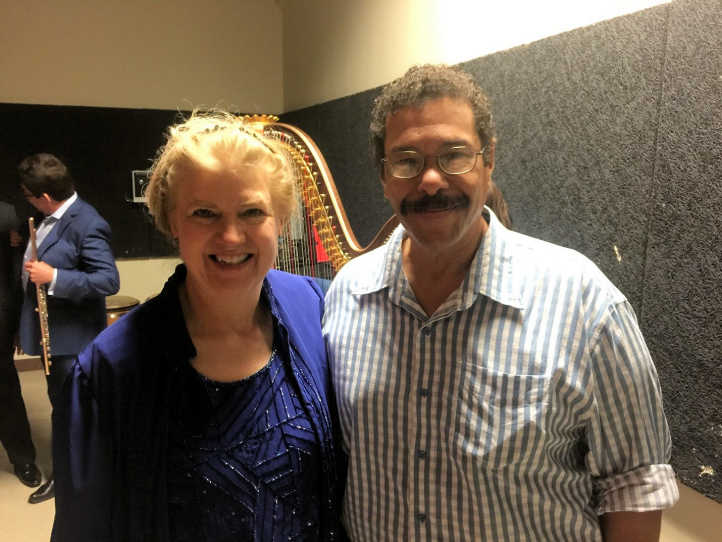 And here I am with Alfonso Fuentes (his Voces del Barrio, on my Caribe Clarinete CD, was nominated for a Latin Grammy in 2009!)
PRSO: Oct. 10th: concert celebrating the Figueroa Family including the Beethoven Triple concerto, with Pianist Ivonne, violinist Narciso, and co-principal cellist at the Met, Rafi, shown here with me. Maximiano Valdes conducted.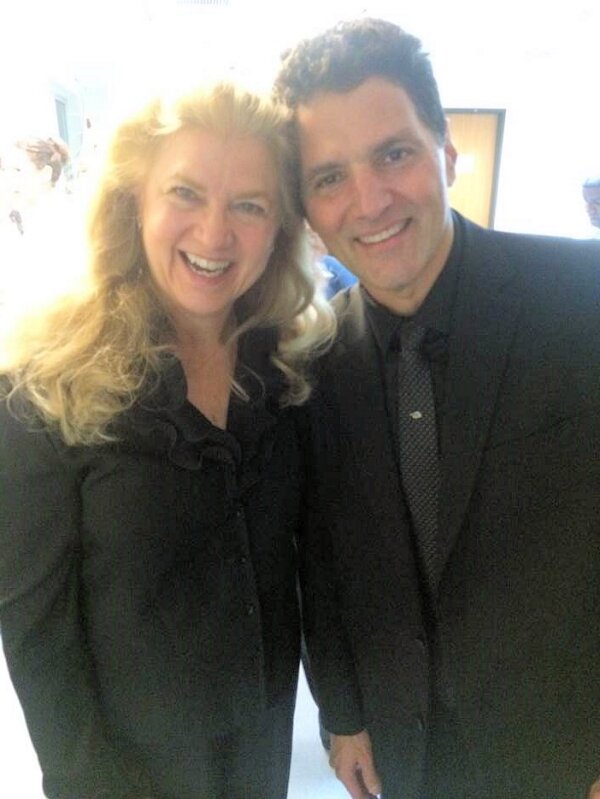 September 2015:
PRSO: 2015-16 subscription season opens on Sept. 5th with Mahler 5.