June 2015:
PRSO: June 13 we close the 2014-15 season with Carmina Burana
CMPR: June 13th Glorylivet Sanchez graduates from the CMPR. She is now a happy member of a Navy band. Here, after her graduation recital, are Nelson Vega, Liza Nazario, Jubal Rosado (also now in a service band,) Glori, me, and Virgil Rivera.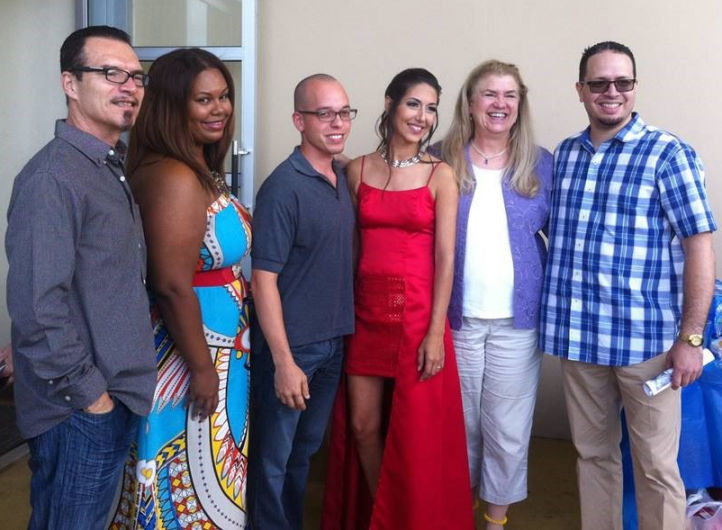 CMPR: June 7th was ClarinetDay with Julia Heinen, sponsored by Buffet! Julia played a super recital she titled "All that Jazz." The kids were – JAZZED! In front, Victor Carrion and Janice Rivera; standing are Veronica Burgos, Jonathan Cosme, Erika Silva, Prof. Julia Heinen, Yelitza Burgos, and Anthony Ortiz.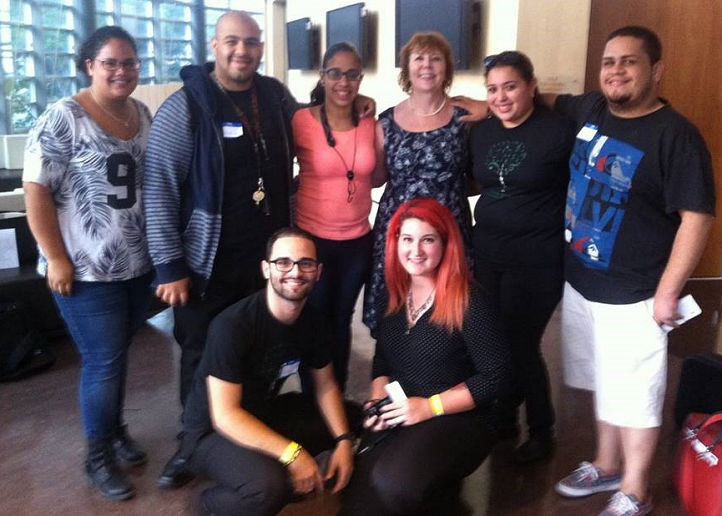 May 2015:
PRSO: May 30th concert with Jose Ramos Santana playing Rachmaninoff's 2nd piano concerto, and Roussel's 3rd Symphony. I remember the piano concerto starting off nicely, and then the soloist just stopped playing—WHAT? Turns out, as he played, the piano keyboard was moving away from him on the piano bench. Technician called onto stage, brakes set, and off we started again…
CMPR: May18th—Glorilyvet Sanchez Maymi—graduation recital for a master's degree—Mozart, Trio K. 498; Leslie Bassett, Soliloquies for Solo Clarinet; Delano, Tres Payasadas for clarinet and bassoon; John Heins, Sonata for Clarinet and Percussion; Schubert, Shepherd on the Rock.
PRSO: May 16 and 17 were the presentations of Atencion, Atencion that attracted attencion, attencion, partly due to Alberto Guidobaldi's masterful orchestrations.
CMPR: May 16th—Cristina S. Rodriguez Fernandez—graduation recital for a master's degree–Danzi, ConcertPiece #1; Stravinsky, Suite from L'Histoire du Soldat (trio,) Debussy/Campos, Three Songs; Sutermeister, Capriccio; Weber, Grand Duo Concertante; Fernando Medina, El Coqui.
CMPR: May 12th—Victor E. Carrion Morales—graduation recital– Devienne, Deuxieme Sonata; Stravinsky, Three Pieces; Poulenc, Sonata for Clarinet and Bassoon; Debussy, Premiere Rhapsody; Fernando Medina, Netiquette; Rossini, Introduction, Theme and Variations.
April 2015:
PRSO: April 25 we played Gershwin's Concerto in F with Michael Lewin, and Shostakovich #12, with guest conductor Victor Pablo Perez.
PRSO: April 11 –Asier Polo, cello; Maximiano Valdes conducting: Copland Rodeo; Ginastera Cello Concerto #2; Petrouchka 1911
March 2015:
PRSO: March 28—Davies Buchner, piano; Maximiano Valdes conducting: Mozart 24th piano concerto; Sibelius 1st.
PRSO: March 14—Casals Festival conclusion with Yo Yo Ma playing the Elgar Cello Concerto; Maximiano Valdes conducting; also Cantares by Carlos Carrillo, and Respighi's Pines of Rome, at the UPR Theater, original site of the Casals Festival.
Casals Festival—Ricardo Morales recital at 8 p.m. on March 13th.
CMPR: Ricardo Morales master class at 2:30 on March 13th –Busy day for Ricky!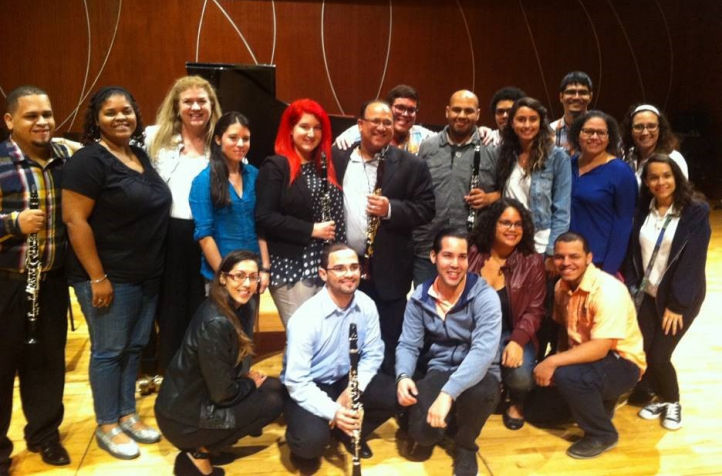 Casals Festival—UPR Theater, March 8th–Tribute to Mitchell Lurie, the Magic of Casals: Kathleen Jones, clarinet, Luis Miguel Rojas, cello and Alan Lurie, piano. This concert was conceived at the Atlanta ClarinetFest 2006, when Mitchell Lurie's son Alan, a dental radiologist by profession, attended to give a lecture about his father's legacy. Alan remembered sitting in the UPR Theater in the early 1960's listening to his father rehearse the Brahms Quintet with the Budapest String Quartet, and thinking, "Oh, THAT's what music is." So, we talked about him returning to that theater to honor that magical era of the Casals Festivals. There was a strike at UPR which closed down the whole University the night before we were supposed to originally play the concert in 2010. Finally, in the 2015 Casals Festival, we presented our program: Beethoven Trio Op. 11; five short pieces for clarinet and piano (Mendelssohn, Reger, Toch, Ravel, and Gershwin,) and the Brahms Trio, Op. 114. Massenet's Under the Linden Tree was the encore. It was a great pleasure to play the concert, honoring one of the 20th century's finest clarinetists and teachers.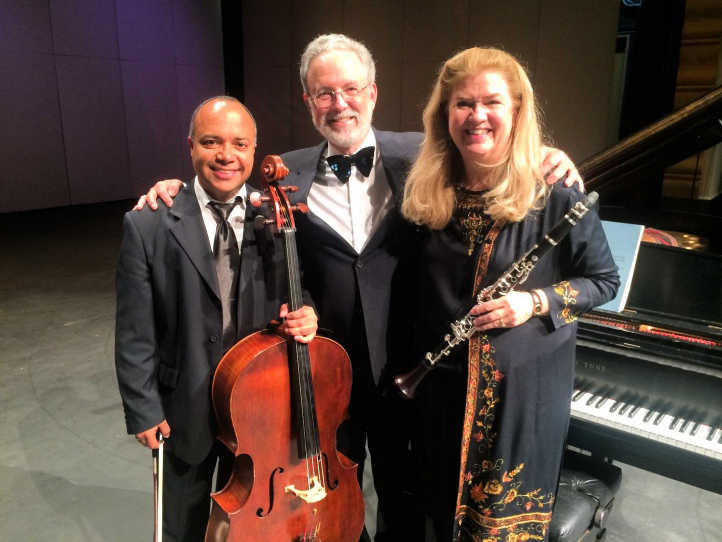 Luis Miguel Rojas, Alan Lurie and Kathleen Jones, March 8, 2015 at the University of Puerto Rico Theater, Festival Casals: Tributo a Mitchell Lurie; la Magia de Casals.
February 2015:
PRSO: Feb. 20th dedicated a concert to Justino Diaz, Puerto Rico's glorious bass, here shown in a photo on display at the Metropolitan Opera House in Lincoln Center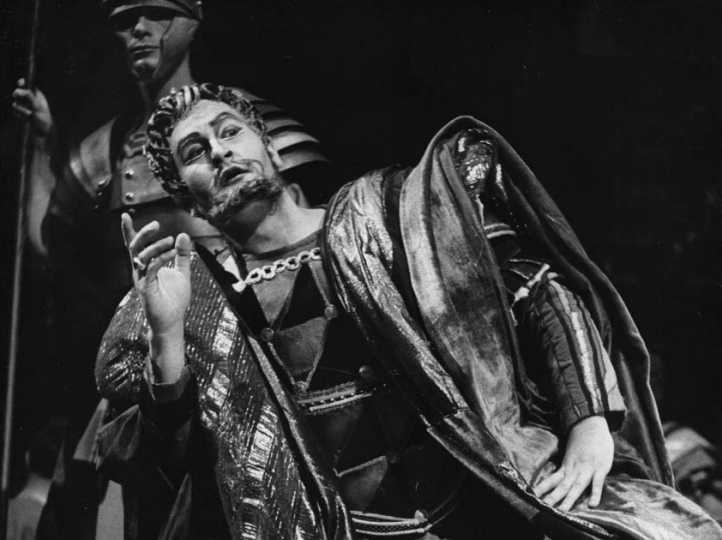 Feb. 1st: Beethoven Septet performed for the APOS Beca concert (the Symphony's support group, Asociacion Pro Orquesta Sinfonica, gives scholarships for summer study to tenured musicians in the PRSO, and the musicians offer a chamber music concert annually in return.)
The violinist, Francisquito Jimenez, who nailed the very difficult violin part, is now our PRSO assistant concertmaster!
January 2015:
CMPR: January 20 and 21st we received visitors Robert Freund (retired first horn of the Vienna Symphony, and dear friend of my teacher William McColl,) and his wife, Guta. They took time from their vacation in Puerto Rico for him to give a master class. It was truly inspiring.