June 2017:
The PRSO finished its season with a very appropriate performance of Haydn's Farewell Symphony (along with the Higdon Viola Concerto with Roberto Diaz, and Beethoven's 7th.)
May 2017:
CMPR's ClarinetDay on May 31st : lecture on improvisation by Prof. Andrew Lazaro, among other events.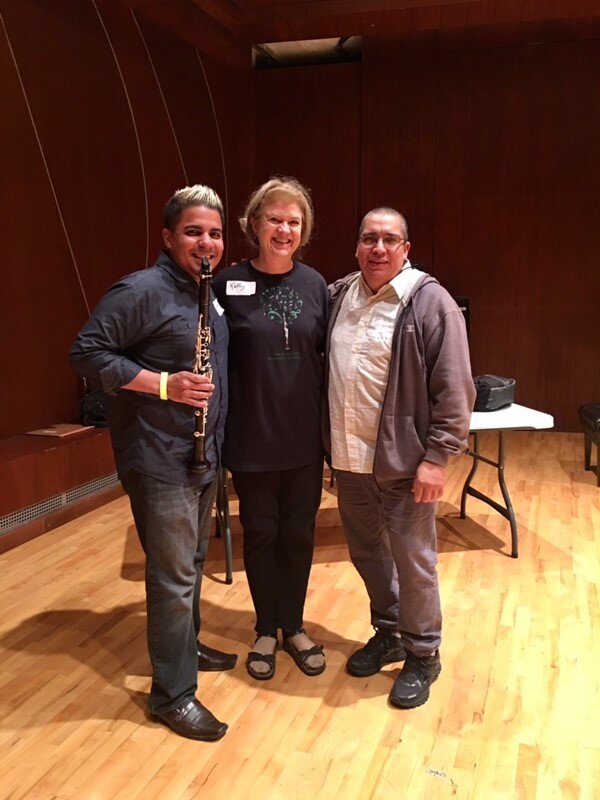 CMPR graduate Jonathan Alcantara, Kathleen Jones and Prof. Andrew Lazaro, on Clarinet Day 2017
May 27: Experiencia Sinfonica concludes with lots of students playing on stage with us, and families happily applauding in the audience, sponsored by Banco Popular de Puerto Rico.
May 19: PRSO plays sold-out Star Wars concert #10
May 13: PRSO with guest conductor JoAnn Falleta plays Barber's School for Scandal Overture, Cello Concerto (with Jay Campbell) and Elgar's Enigma Variations
April 2017:
Coro de Clarinetes is actively playing and fundraising on tv, radio and in parks.
April 22: PRSO with our wonderful new principal oboist, Ivonne Perez, playing the Vaughan Williams Concerto also presents Tannhauser Overture and the Chausson Symphony under the baton of our Associate Conductor, Rafael Enrique Irizarry.
April 8: PRSO with Maximiano Valdes on the podium plays Appalachian Spring, Mozart's 3rd Violin Concerto (with Leticia Moreno,) and Mendelssohn's Scotch Symphony.
March 2017:
March 25: I was honored to be invited to give the Mitchell Lurie Master Class at the Manhattan Prep School. You can see the work these talented students and I did if you Google it. Because I studied two years with Mitchell Lurie (at the Music Academy of the West, and at USC) I was especially pleased to be asked to give this class, and to have three of my most respected Stateside colleagues (Larry Guy, Ron Odrich and Alan Lurie,) in the audience.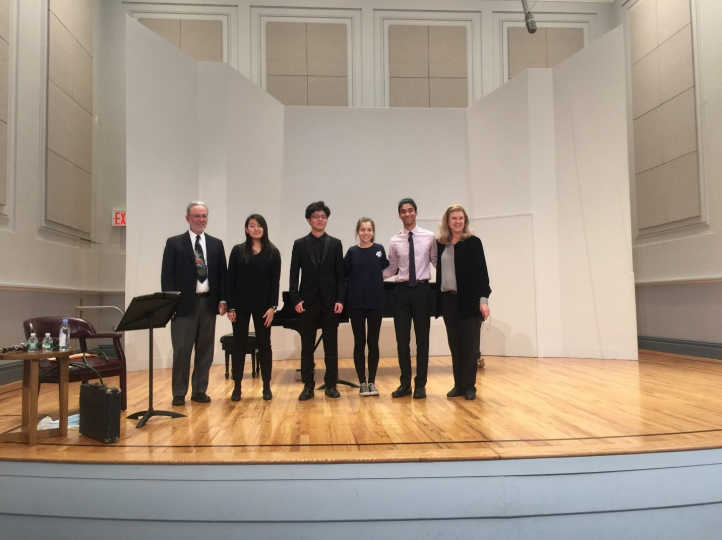 Left to right: Alan Lurie, Iris Chang, Jiheon Kim, Izabela Zawartka, Lucas Slavin, and Kathleen Jones; March 25, 2017, Manhattan School of Music. (Not pictured Olivier Elkan)
March 11: PRSO finishes the Casals Festival with Maximiano Valdes conducting the Beethoven Violin Concerto with Gil Shahan, and Bartok's Bluebeard's Castle.
March 4th: Tafelmusik presented a FABULOUS performance entitled the Circle of Creation in the Casals Festival.
February 2017:
CMPR: Feb.13th the gifted composer and pianist Amy Rubin was offering a great masterclass on improvisation—the kids were loving it—when she tripped over an errant chair and broke her arm. We went into emergency mode and got her safely on a plane back to her home in Seattle by the next day. We are so happy to know that she has recuperated and is playing again. We hope she will return and finish the class!!
CMPR: Feb 1st: Eli Eban gave a wonderful master class
January 2017:
January 5th: PRSO plays the annual Three Kings concert, with youth soloists and Roselin Pabon on the podium. This is always one of the most joyous concerts of the year!