December 2017:
PRSO played its annual Christmas concert on the 16th in the Puerto Rico Coliseum (the Choliseo) for the first time, a huge venue usually used for popular concerts, pressed into service because almost all of Puerto Rico's performing halls (except the 1100-seat Sala Sinfonica) were still under repair from Hurricane Maria. (The venerable University of Puerto Rico Theater is not expected to be ready for use until perhaps fall of 2018 or for "Hamilton," coming in the spring of 2019.)
On the 17th we played for a presentation of "Atencion, Atencion", a very popular children's television show produced in Puerto Rico, with music arranged and scored by Alberto Guidobaldi. Our recording of a previous presentation of "Atencion, Atencion" received a Latin Grammy pre-nomination in the category of children's programs in 2016.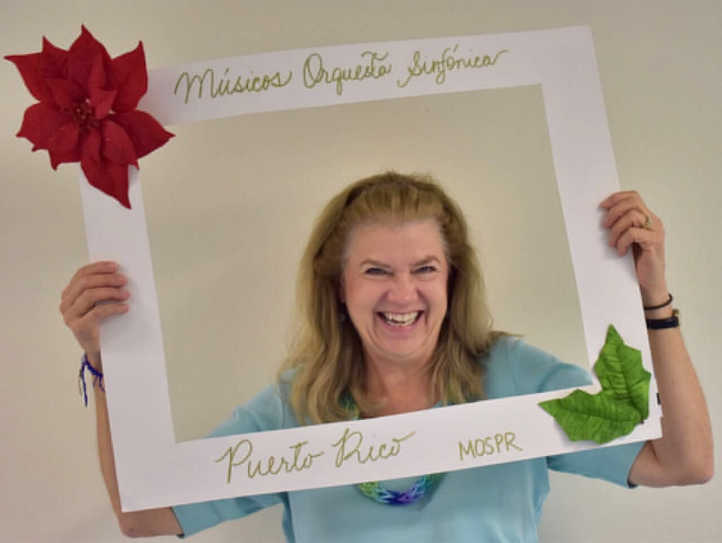 Merry Christmas, Feliz Navidad, photo (of me,) taken by our wonderful PRSO harpist Elisa Torres, backstage in Sala Sinfonica, December 2017
PRSO's subscription season resumed on December 1st at Sala Sinfonica with a presentation of Mahler 1, with Maximiano Valdes on the podium.
November, October, September 2017:
Life in Puerto Rico all revolved around
HURRICANE MARIA—September 20, 2017—she whacked the whole island. My husband and I were safe in our concrete house, but spent six hours that day mopping up water pouring down from a hall skylight. We have a 20K diesel generator, and as long as it was chugging away, we lived pretty normally. During the other four weeks, we appreciated cables thrown from neighbors' houses to keep our refridge running, and got to know the constellations as we had candlelight dinners on our patio. Our power was restored on December 5th. One of my students who lives out on the island was without power for eight months. Some communities, as of this posting, are still dark, and the 2018 hurricane season has officially started.
The OSPR (Orquesta Sinfonica de Puerto Rico, in Spanish,) played 22 concerts around the island during October and November. We went to some of the hardest hit towns (Yabucoa, Utuado…) and did our best to raise people's spirits, often taking with us much needed supplies, including rice, beans, diapers, etc. The wonderful side of the disaster was seeing everyone reaching out to others—helping any way possible. The CMPR was able to resume classes on October 30th; the OSPR returned to our previously scheduled season the last week of November. We are still recovering, but the island is now beautifully decked out in green and the brilliant red of the flamboyan and African tulip trees. Nature revives. This is my favorite Maria photo, which I took the day after the hurricane passed. You can see in the background the power pole bent under the weight of our neighbor's tree, but in the foreground, to the right of the water bottle, there are the bananas, still on the tree!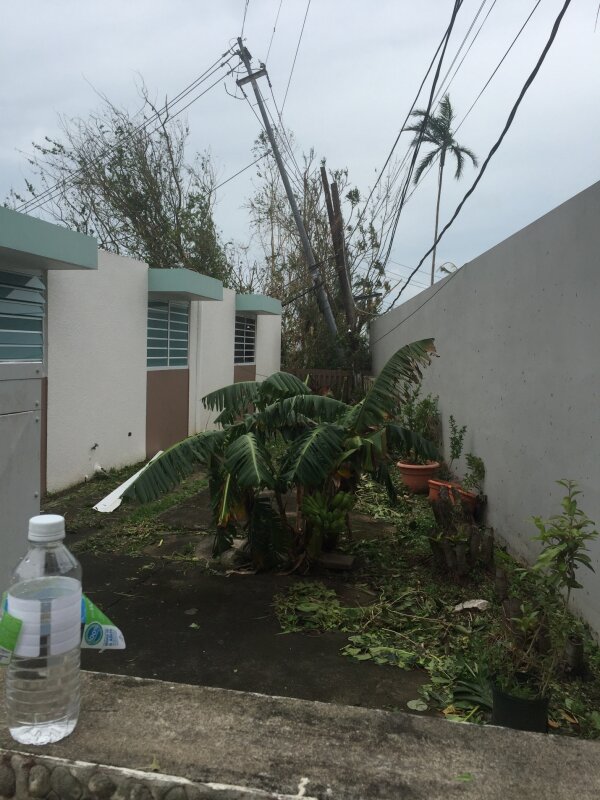 If anyone wants more details about our ordeal, let me know. I can write about the day-to-day events: the total quiet after Maria's passing;
the brilliance of the stars, because for many days there was no power anywhere on the island, except that produced by generators;
going to search for our friends in the hills to see if they had survived in their self-built, wooden house and our joy at finding them alive;
the lines for gasoline;
the lines for cash machines;
the lines to enter supermarkets, if you could find one open;
the hours of cutting the neighbor's trees out of the power lines in our back yard and carrying the debris to a huge pile in front of our house;
the $300 weekly cost of keeping our generator running;
taking food and water to our church for distribution as needed, and on and on.
It was a different life, for at least a month, focused on just the bare necessities. We all have a greater appreciation for 21st-century comforts, having been taken back to a 19th-century lifestyle. Some communities out on the island are still in the latter.
August 2017:
CMPR started up on August 14th with the clarinet students still pumped from their recording session on the 8th in our Sala Sanroma. Members of the Coro de Clarinetes recorded 14 works played at ClarinetFests 2014, 2016 and 2017, soon to be available!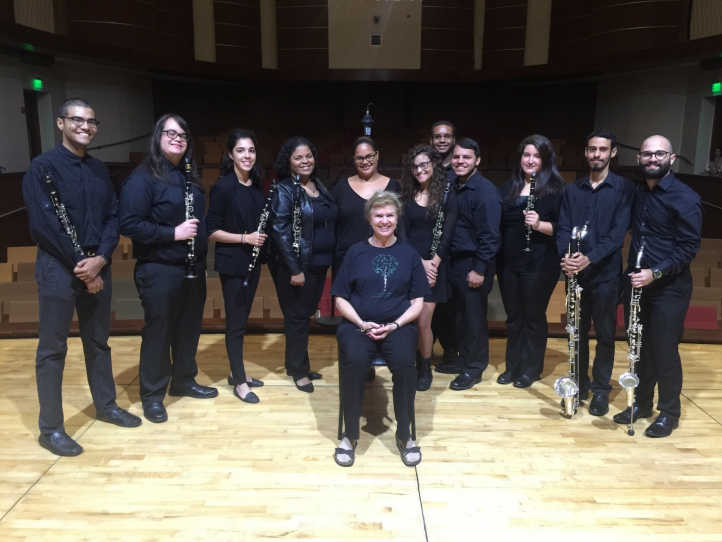 August 8, 2017, in Sala Sanroma of the CMPR, Coro de Clarinetes, having finished our recording session: Wilmer Borges (solo clarinet in Sara,) Ezequiel Acevedo, Clara Ruiz, Laura Correa, Veronica Burgos, Natasha Lopez, Joel Rosario, Jean Paul Torres, Janice Rivera (E-flat,) Omar Torres (bass,) and Victor Carrion (alto.) Kathleen Jones, director, seated..
Kklarinet Music Store officially opened here on my website on Aug. 12th. You can now download tracks, for a modest price, from my Caribe Clarinete and Voxman Selected Studies recordings.
PRSO started up on August 7th for its 59th season, with our first presentation being a concert version of Werther on the 16th.
July 2017:
Coro de Clarinetes del CMPR, after a massive fundraising effort (with thanks to all our donors to the Beca Don Jesus Figueroa!!!!) played at ClarinetFest in Orlando, including two original works written in memory of the victims of the Pulse Nightclub shootings. You can see a recording of the July 30th presentation on the Choir's Facebook page: Coro de Clarinetes del CMPR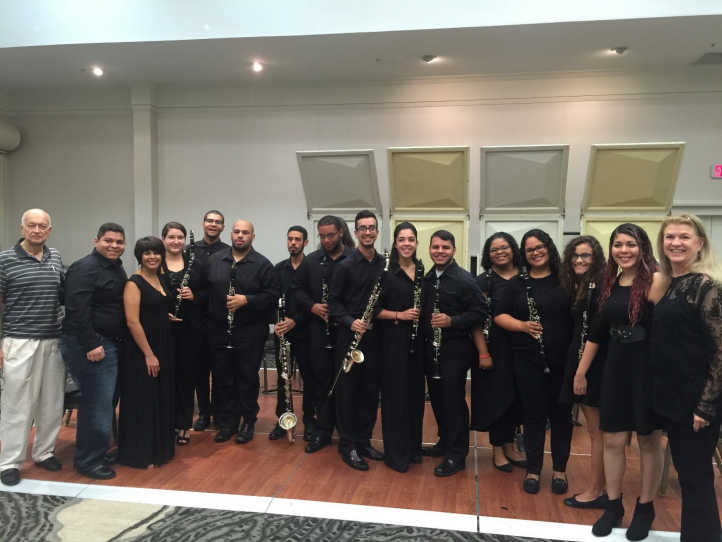 After the Coro's concert July 30th at ClarinetFest 2017 in Orlando, from left to right:
David Bourns (arranger of Sara,) Julio Quinones (composer Mosaico,) Deborah Rivera (soprano, In Paradisum,) Janice Rivera (E-flat,) Wilmer Borges, Jonathan Cosme, Omar Torres (bass,) Joel Rosario, (Ezequiel Acevedo's hair is barely visible behind Joel,) Juan Soto (alto,) Clara Ruiz, Jean Paul Torres, Laura Correa, Veronica Burgos, Natasha Lopez, Ketsia Cardona (composer Always a Kid and Punto de Encuentro,) and Kathleen Jones, director.
July 15th clarinetists and some wonderful singers teamed up for our second "Serenata Cantabile" fundraiser at the Conservatory: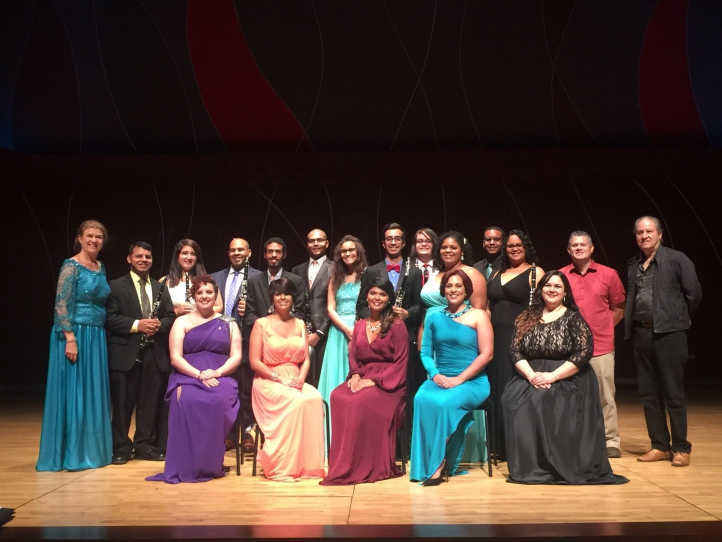 Left to right, seated: Fabiola Lopez , Deborah Rivera, Sharlene Reyes, Sibelle Marquez, Esthermari Barbosa; standing: Kathleen Jones, Jean Paul Torres, Janice Rivera, Jonathan Cosme, Omar Torres, Wilmer Borges, Natasha Lopez, Juan Soto, Ezequiel Acevedo, Laura Correa, Joel Rosario, Veronica Burgos, and composers Armando Ramirez and William Ortiz.