June 2018:
CMPR graduation on the 10th: congrats to Veronica Burgos Perez for her BM in clarinet! She is now the clarinet teacher at the Escuela Libre (Free School of Music) in Caguas! Double congrats!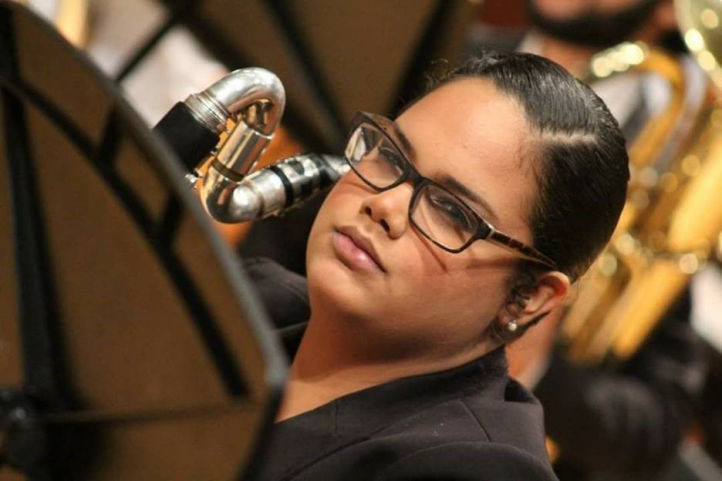 PRSO season finished on the 9th with Star Trek and other sci-fi scores. We shall start up again in August, God willing (and bankruptcy notwithstanding….)
May 2018:
PRSO finished the season-long Experiencia Sinfonica project, sponsored by Banco Popular de PR, with eight clarinetists participating, coached by OSPR 2nd clarinetist Emmanuel (Pochi) Diaz. The concert on May 26th (my 27th wedding anniversary, no less…) was sold-out!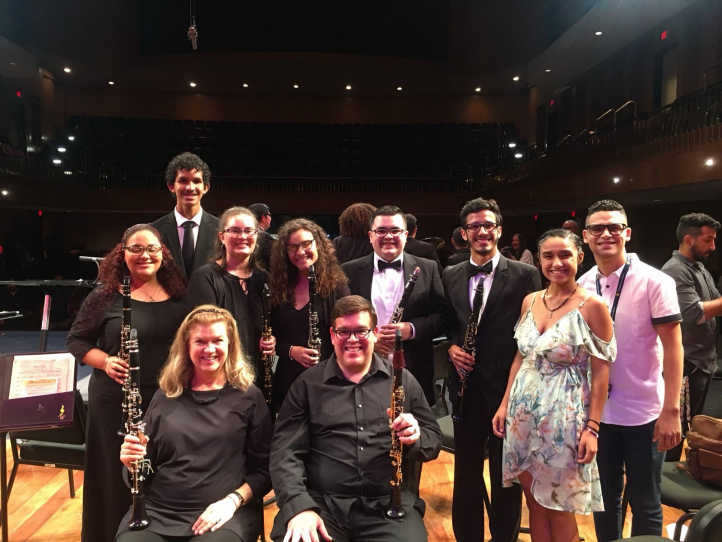 Seated: Kathleen Jones and Emmanuel (Pochi) Diaz; Standing, from left: Jeeileen Sotero, Pablo Figueroa, Melanie Pineiro, Natasha Lopez, Wesley Rivera, Juan Leon, Alejandra Vega, and Jorge Santiago.
PRSO Tchaikovsky festival finished on May 5th, with the 5th Symphony before intermission and the 6th after. (We were all pretty tired at the end of that concert!)
April 2018:
Coro de Clarinetes of the CMPR on April 11th presented its last of five programs during the second semester. We hope to soon have recordings available of some of their greatest hits!
PRSO with Carmen Acevedo's fabulous Coral Filarmonica concluded the Casals Festival on March 17th with a profound and wonderful performance of the Mozart Requiem, Maximiano Valdes on the podium.
March 2018:
CMPR: March 9th: Michel Lethiec Master Class, sponsored by Festival Casals
Group congratulations are offered after the Festival Casals concert of March 11th:
from left: Ezequiel Acevedo, Joel Rosario, me, Melanie Piñeiro, Michel Lethiec, Natasha Lopez, Juan Leon, and Wesley Rivera.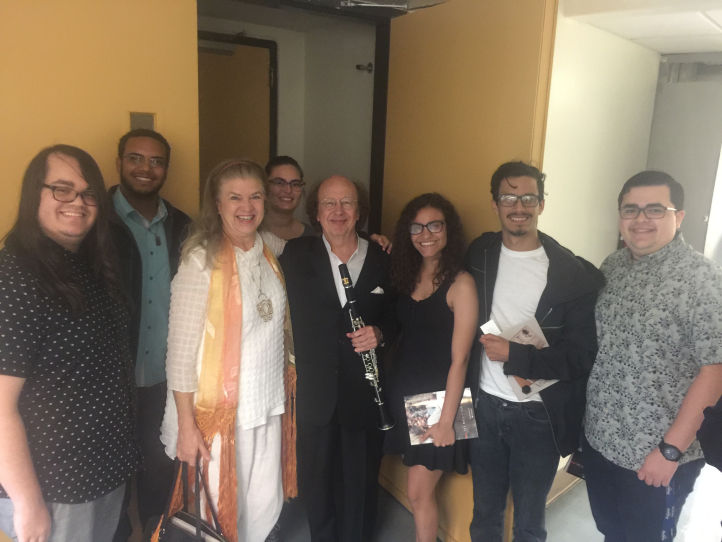 PRSO on March 3rd brought the house down with Giancarlo Guerrero's moving interpretation of Shostakovich's 5th Symphony in the second concert of the Casals Festival.
February 2018:
The Casals Festival opened on Feb. 28th with the Brahms Double with incomparable soloists Pinchas Zukerman and cellist Amanda Forsyth.
CMPR juries to conclude the first semester were taken on Feb. 2nd, with the second semester starting only five days later. This allowed us, taking no holidays except Good Friday, to finish the academic year by the beginning of June, as originally scheduled, in spite of the scheduling chaos caused by Hurricane Maria and continued random power outages.
January 2018:
PRSO enjoyed working under the guest baton of Manuel Hernandez Silva, concluding the week of January 27th with a rousing subscription concert including works by Estevez, Sarasate, Ravel and Revueltas.
CMPR: January 25th–Veronica Burgos Perez graduation recital: Krommer, Quartet in D Major, Op. 82; Giacoma, Fantasia on Cavalleria Rusticana; Messiaen, Abyss of the Birds; Bozza, Bucolique; Sonia Morales, Divertimento Caribeno #2.
PRSO presented a subscription concert on Jan. 13th with Maximiano Valdes conducting Falla's Amor Brujo, Prokofiev's Third Piano Concerto (with Khristenkov) and Ravel's La Valse.
(Mind you, I'm just giving some of the highlights of our season—the Puerto Rico Symphony rehearses every Monday through Friday from 6:30 to 9:30 p.m., with a concert on Saturday, for 44 weeks, August through June…..) (My husband says he's married to the Symphony too…)