I finished work on July 31st, and was on a plane to Seattle on August 1st. My recitals were scheduled for August 10th in Seattle, the 12th in Ellensburg, and the 17th in Eugene, Oregon. I was staying at my mom's house in Ellensburg while rehearsing, and she came upstairs to wake me up at 7 a.m. on August 7th (her birthday,) saying there was a phone call for me—a man from Puerto Rico wanted to talk to me about a job. Huh???
I went downstairs, picked up the phone, and a man whose name I didn't understand (Elias López Sobá) said he was calling on behalf of Festival Casals, Inc. to offer me principal clarinet in the Puerto Rico Symphony (which had a 28-week season,) the clarinet teaching position at the Conservatory, and second chair in the Casals Festival, for one year, beginning on August 15th. I took notes about the salaries, and asked if I could think about it. I wrote down his phone number and promised to call back within a week, then hung up.
"Mom, I'm not sure what this is about, but Mr. McColl must have recommended me." So, I called Seattle, and my University-of-Washington-professor's wife gave me a phone number in Michigan to call him at his parent's house. Luckily, he was available, and when I told him about the offer, he asked, "You took it, didn't you?" "Well, I said I'd think about it and call him back within a week." "No, no, you call him back as soon as you hang up with me and accept. It's your big break." "Okay—where's Puerto Rico???"
Mr. McColl explained where it was, about the climate (you never need a coat) and the general situation, leaving no doubt in my mind that I should follow his advice. So, after hanging up, I looked at Mom—"He said to go." We got a calendar, calculated how much time I needed to finish my recitals, return to New York, pack up and head south. I called Mr. Elias López Sobá in Puerto Rico, confirmed that it was principal in the orchestra, and asked if I could begin on August 25th rather than the 15th. The date was agreed to, I gave my New York address, to which to send the plane ticket, he said a reservation would be made in my name at the Excelsior Hotel to arrive on the 24th, and that was that.
The decision was an easy one—I was going to play principal clarinet in an orchestra! Teaching would sustain me while the 28-week season was on hiatus. Even though it was only one year, it would give me a chance to start repaying my student loan from USC days. Juilliard soon agreed to postpone my admission until the following September, so I had nothing to lose.
Happy birthday, Mom!! Your youngest daughter just got her first big job.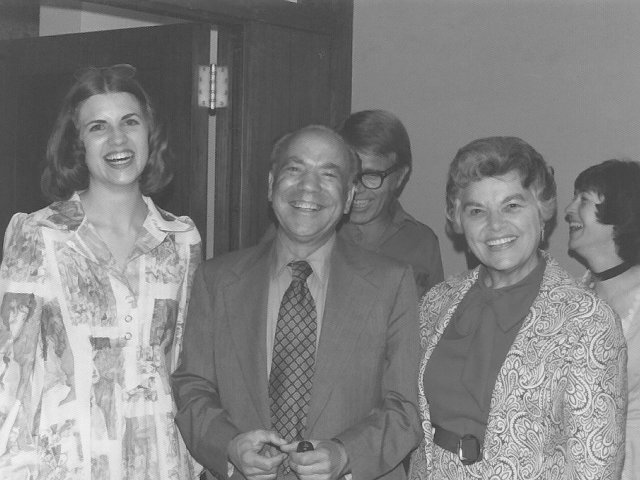 My three recitals were joyous events on the wings of such great news. We celebrated! Here is a photo back stage at Central Washington State College, in Ellensburg, August 12, 1975, with my fine pianist, faculty member Bonnie Bricker-Smith on the far right. Next to me is the composer Paul Creston (in residence in the music department at that time) and his wife Louise. (Partially hidden is Prof. Wendall Holstrom.)
By August 19th I was back in Manhattan, finding a one-way plane ticket awaiting me. I called and inquired about the return fare, and was told that it would be paid when I finished my work and left the island. I packed up. My apartment-mates gave me a good-bye present of a pink, elastic tube-top they bought down on Amsterdam Avenue at 110th Street, and off I went to Kennedy airport with a couple of suitcases and my clarinet case in hand.
I arrived in San Juan on Sunday, August 24th and took a cab to the Excelsior Hotel in Miramar. That all worked. My instructions were to wait for a phone call on Monday, and someone would pick me up to take me to the Conservatory in Hato Rey to begin teaching. So, the next morning I was ready to go early, awaiting the phone call, which didn't come, and didn't come. Finally, I decided to go out for a walk around the block, to see what the area around the hotel looked like. I didn't get too far in my mini-skirt with my clarinet case in my hand before I realized that this wasn't Manhattan, and maybe I should head back to the hotel. I couldn't figure out where the block was either—pretty quickly the sidewalk diminished, and cars were whizzing by me from behind.
I got back safely to the Excelsior and, finally, decided to give up waiting. I called the Conservatory and was greatly relieved when I was greeted with many apologies. The Dean of Administration, Andrés Quiñonez Vizcarrondo (another name I didn't understand) explained that they were dealing with a student strike, begun that day, protesting a $5-per-credit tuition charge for registering at what had heretofore been a free institution. Having finished my Bachelors degree paying $100 per credit, I was a bit mystified by the fuss, but I followed the new instructions to get in a cab and come over to the Conservatory. ("Tell the cab driver it is in front of Zipperles." ?? "Okay.")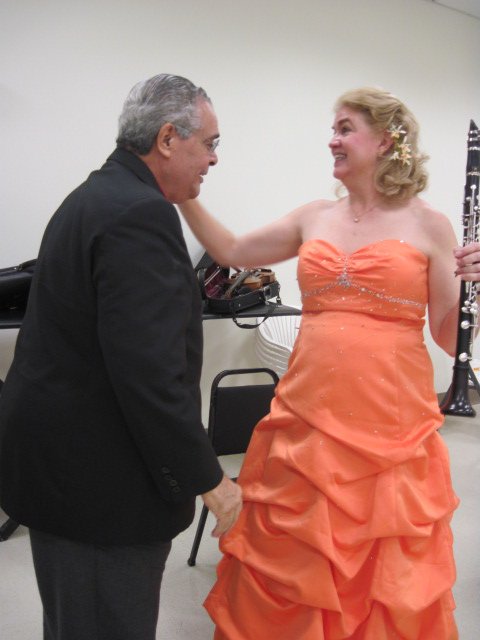 Once there, in front of a well known restaurant, passing by the protesting students as I went into the administration building, I met Mr. Elias López Sobá, as well as Marta Casals, vice president and president, respectively, of Festival Casals, Incorporated. "The Maestro" (Catalan cellist Pablo Casals) had passed away 22 months prior to my arrival, but his spirit was palpable as I was given the tour of the institution that he had founded, now headed by his beautiful, young, articulate, Puerto Rican widow. I was given a key to my teaching studio, and was made to feel welcome. I understood no Spanish at all (my foreign language all through school had been French,) so everyone managed to converse with me in English, although some were more fluent than others. I was under the American flag, but it felt distinctly different than being in the US of A. I was the outsider. I was a long way away from Oregon, Washington, California and even New York.