The summer of 1977 included backpacking into lakes over 5,000 feet in elevation, a trip to see my Great Aunt and Uncle (violinist David Abel's parents) in Sebastopol, CA, with a trip to the Napa Valley wineries, and, back in Puerto Rico, a visit to the world- famous Arecibo Telescope.
Conservatory classes resumed in August, while many of us were busy rehearsing in the pit of the Tapia Theater for performances of Felipe Gutierrez Espinosa's (1825-1899) "Macias." Perhaps the first opera written in Puerto Rico, this treasure had been recently re-discovered by Lydio Cruz Monclova in the vaults of the Archivo de Indias in Seville, Spain, where it had reposed for decades. Presented by Camelia Ortiz and her company, Opera de San Juan, the modern premiere of this work was an historic labor of love.
The PRSO season resumed on September 6th, and Kal Opperman arrived for a visit the next day. He gave a master class for the students on the 12th. Here is a nice letter he wrote to me after his visit.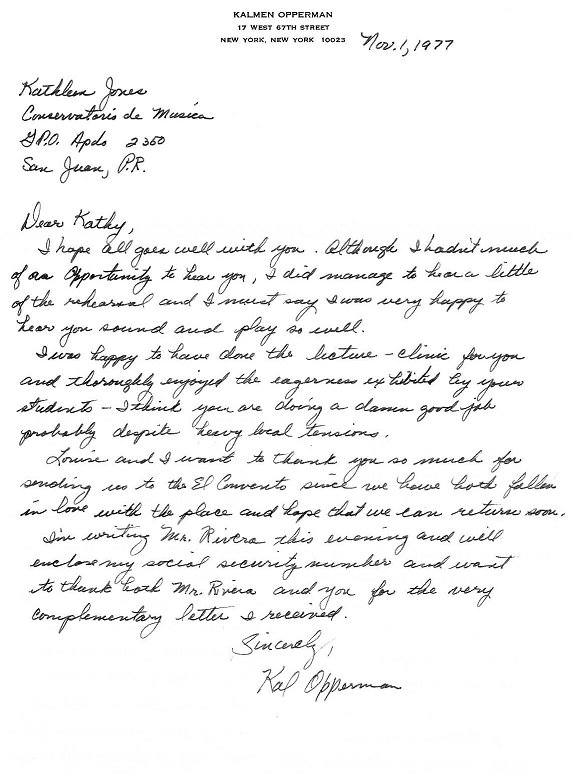 The pressures he alludes to are about my national origin—at this time I was still considered an outsider. That pot was heating up and would reach a boiling point in some months' time.
Meanwhile, other pressures were building, and a strike began in the Symphony on September 26th, cancelling Lukas Foss' visit to guest conduct. On October 18th the Conservatory teachers voted not to cross the Symphony's picket line, and we were all out on the street with placards. On October 28th Elias López Sobá and Martita Casals resigned as the heads of Festival Casals, Inc., and by November 7th we were all back at work, eager to receive our paychecks again! The marvelous old Viennese maestro Franz Allers visited and taught us how to play his countries' waltzes in real, local style (anticipating the second beat and delaying the third by fractions—aha!)
Thanksgiving break arrived with a commitment from several of us to travel to Vieques and play chamber music at a guest house (Casa del Frances.) It started to rain, and I, being a hardy Oregon-bred Girl Scout, didn't think anything about it, although the violist and bassist in our group opted out of the trip. Those four of us still willing to go hopped in my Volkswagen rabbit and were a bit concerned as we safely crossed the flooded bridge at Rio Grande, navigating around stalled cars. We became more worried as the ferry crew explained that they were considering cancelling the ferry crossing because the sea was "malisimo," but we got on board, and just got to the other side before our cellist threw up from the rough crossing. Then, we were picked up by someone from the Casa del Frances, who said he hoped that the bridge wouldn't wash out, allowing us to get to and from his guest house.
Oh, my, Oregon rain hadn't been like this! We arrived safely at our destination, played our chamber music for guests down from New York and other places, and, low and behold, the sun came out!!! We ended up having a wonderful time, and our return was, thankfully, less stressful that our arrival had been.
It was a good lesson for me—Pacific Northwest rain is usually a constant drizzle that provokes residents to rust over the years. Caribbean rain is sometimes a similar drizzle, and sometimes like a hose being turned on. I stopped automatically berating my students who said they were late because it was raining—I'd go and look out the window to check it out before I decided on giving them a late pass or not.
That Symphony season included some great clarinet repertoire with cadenzas galore: Rhapsody in Blue, Rimsky-Korsakov's Capriccio Español, Ravel's Rapsodie Español, Sibelius 1th, Orpheus in the Underworld Overture, Kodaly's Dances from Galanta; Khachaturian's Violin Concerto, Canteloube's Chantes d'Auvergne, Peter and the Wolf, Semiramide Overture, Night on Bald Mountain, Brahms 3rd and 4th Symphonies, Rachmaninoff's 2nd Piano Concerto…. Our conductors included John Barnett, Karel Husa, Ainslee Cox, Sydney Harth, Miklos Rozsa, Kurt Herbert Adler, Lukas Foss, Odon Alonso, Jesse Levine, and Maestros Bernstein and Takeda (whose first names are lost in my records.) Soloists included Luciano Pavarotti with Mirella Freni, Mark Piskunov and Horacio Gutierrez. Plácido Domingo was our Andrea Chenier at the UPR Theater.
That Symphony season also included two concerts I will never forget. There was the February 7th run-out concert in Cayey—I made a quick trip up to Philadelphia a couple days before to have the famous Hans Moennig work on my clarinets, taking the music with me to work on. As I walked into Moennig's shop on the morning of February 6th, (1978) it was just starting to snow. When I walked out with the aged, diminutive craftsman at 5 p.m. there were three feet of snow in the street, and not a car or bus in sight. He insisted on leading the way ("You have no boots") and we trudged along, making our path. We parted ways when we got to a major street near my hotel.
Soon, calling the airline, I realized that this snow storm had shut down a major part of the east coast, and the only possible way out would be by train. I was up at 5 a.m. to get to the subway, to go to the train, to go south to Baltimore, the nearest functioning airport, to go to New Orleans, to go to San Juan. Long story short, I missed the concert by about an hour, which wouldn't have been so serious if I hadn't had the music. (Historical reality check–in 1978 there were no photocopiers, fax machines or computers in general use….) The cab driver who took me home in San Juan couldn't understand my anguished crying—"But I have the music!" They survived in Cayey, but not without a couple mishaps. I vowed I'd never do THAT again!!!!
Then, April 12th, we had a concert at UPR with Lukas Foss conducting Tchaikowsky 6th, and Horacio Gutierrez playing Rachmaninoff's 3rd piano concerto. Rehearsals had gone well, in spite of the librarian having to work around a disgruntled local pianist, who thought HE was supposed to play that Rachmaninoff with the orchestra. The local pianist had all the copies of the score on the island and wouldn't give them back, so the Casals Festival secretary in New York had sent a score down from Broude Brothers on an Eastern Airlines flight, which arrived just in time for the rehearsals. On concert night, I arrived on stage, looked over the Tchaikowsky and turned over the music to find an otherwise empty folder. A quick check with the 2nd clarinetist and principal bassoonist prompted frantic waving to the librarian—"We have no Rachmaninoff." No one else had it either, except those who had taken their folders home. The television cameras were in place, it was 7:45 p.m., Lukas Foss was pacing back and forth off- stage in his tails, and Gutierrez was wringing his hands. Options were quickly put on the table. We ended up playing the Tchaikowsky and leaving Gutierrez to beautifully supply solo piano works on the concert's second half.
The music had been kept in a trunk with a broken lock back-stage at the UPR Theater. Only the Rachmaninoff had been removed. The music was never recovered, and, of course, the suspected local pianist never confessed. But it has always been one of the Puerto Rico Symphony's more bizarre stories. The next year Gutierrez was invited back and we did the Rachmaninoff without incident.
For the Casals Festival, Alberto Ginastera came to town, with his wife, cellist Aurora. Festival conductors were Julius Rudel, Raphael Frühbeck de Burgos, Sergei Commissiona, and Werner Torkanowsky; Frank Cohen played principal clarinet in the Festival Orchestra. It was an exciting time in San Juan.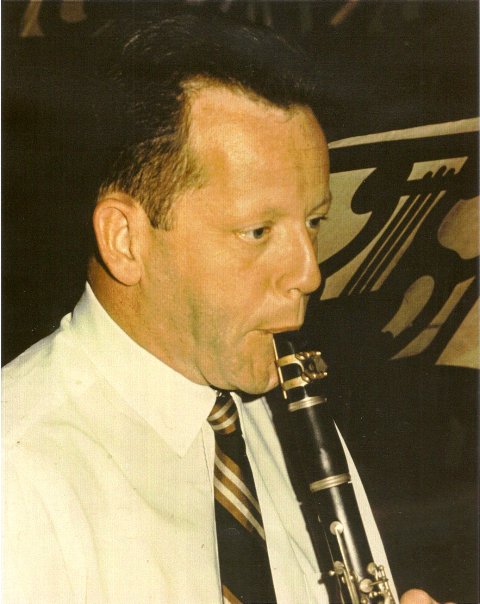 I went up for the Marcellus Master classes at Northwestern University from June 27th to July 1st, playing Cavallini's Caprice #25, which he said was repertoire of "recital quality," and the Pines of Rome. Again, we heard that beautiful sound, and witnessed Marcellus' commitment to excellence in music making. Here is a picture of his embouchure—note the corners of the mouth. He spoke of "top-lip pressure" (downwards) and referred to Alexander Selmer saying the embouchure should be like a rubber band around the mouthpiece.
I headed out to Washington State, giving recitals on July 11th in Ellensburg, and on the 13th in Seattle with the fine pianst Kevin Aanerud (the Schumann Fantasy Pieces, the Smith Five Pieces, Shepherd on the Rock, with my sister Donna as the wonderful soprano soloist, the Bernstein Sonata and the Weber Grand Duo.) Then I enjoyed family time, backpacking and seeing the King Tut exhibit (with the real golden objects from the tomb!) On my way back to San Juan, I stopped in Toronto for the August 7-11th Clarinet Festival. It's line-up of artists was really fantastic: Mitchell Lurie, Jack Brymer, David Weber, Karl Leister, Stanley Drucker, Eddie Daniels, Yona Ettlinger, Arthur Benade on acoustics, Jim Campbell, Stan McCartney, Phil Rehfeld and the Mühlfeld Trio. Wow!
I met Joaquin Valdepeñas (of Mexican parentage) and began speaking Spanish with him. He started to laugh at me, and when I asked why, he giggled and said that I sounded just like a Puerto Rican! Yea! I was learning! I returned to San Juan on August 12th, and was back teaching on the 14th.