The summer of 1976 was a welcome break from that busy first year on the job. I visited my family out in the Northwest, took a road trip through the Canadian Rockies with my dad, stopped by Denver in August for the "Clarinet Clinic" (forerunner of the current ClarinetFests,) hearing Larry Combs, Michele Zukovsky, Buddy deFranco and other greats, and then returned to San Juan for my second year.
Conservatory classes resumed on August 16th; the incomparable Marilyn Horne gave an unforgettable recital in the UPR Theatre on the 18th; Puerto Rico's fabulous female vocal quartet the Caribelles had a run at the Caribe Hilton in October, where we celebrated my birthday; the PRSO was playing concerts, including educational and island venues; I played my first Schubert Great and Mendelssohn Italian Symphonies under Tevah's baton. A very young Yefim Bronfman played Beethoven's Third Piano Concerto with us in December. There were additional "gigs" playing ballets, operas, and pops concerts; we did an all- Gershwin concert with the great Gunther Schuller conducting and Jesús Maria Sanroma playing Concerto in F and the Rhapsody in Blue in the UPR Theater. My first Peter and the Wolf was with a part on the stand for just B-flat clarinet, meaning that some of the cat's solos were written down to a low E-flat—a non-existent note. That was a joy to sightread! I had to completely rewrite the part. We were always busy.
Then, after the first half of the season finished in December, we found out that the administration had unexpectedly terminated Victor Tevah's contract. He had been our highly respected and very popular music director for years; the PRSO took a strike vote to support him, and the CMPR followed suit.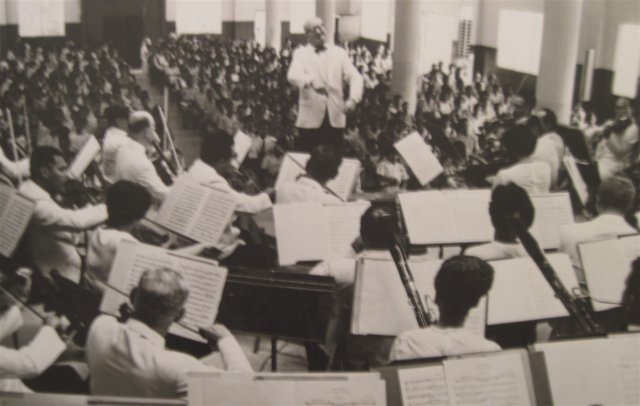 Here is a picture of Tevah conducting the PRSO in the 1960's; the second bassoonist is Sue Bourns McColl, wife of my teacher William McColl, and sister of David Bourns, who was the principal oboist of the PRSO for 40 years.
Meanwhile, in New York City, Russianoff, who was always such a great supporter, had been encouraging me to play in Carnegie Recital Hall, and helped me reserve a date. We decided on a program (the Danzi Sonata, William O. Smith's Five Pieces, the Delano Sonata, Arthur Benjamin's Tombeau de Ravel, and the Brahms Second Sonata,) and I asked pianist Yvonne Figueroa, one of Puerto Rico's finest, to accompany me. We set it all up for February 7th, 1977 and I began rehearsing in the fall of 1976. In late January, with the PRSO and the CMPR on strike, I headed up to Manhattan, where Yvonne joined me, coming in from her then-home, Madrid.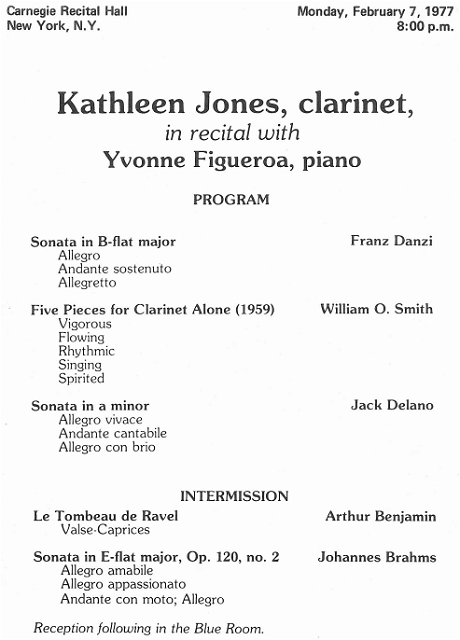 Russianoff got us a live interview on WQXR, New York's best classical music station, on the program "Robert Sherman's Listening Room." That Friday morning, as he questioned us about music in Puerto Rico, I began answering that I understood that music in Puerto Rico began with Pablo Casals moving to the island. WOW!!!! Yvonne jumped in with an energy that neither he nor I expected, correcting me, saying that, in fact, there had been much fine music on the island before Casals' arrival. Now, many years later, I know that she was right! Puerto Rico benefitted from the presence of Spanish military bands some two centuries before Casals' arrival. Pro Arte Musical, Inc., the island's oldest musical presenter, was founded in 1933, and there were famous singers from the island in the greatest opera houses in Europe and New York City (the tenor Paoli among them,) from the 19th century. So, Yvonne brought us all the correct information, and our interview was a great success.
The recital, likewise, was a great success. My family all came out from the West to hear us, and we had many friends and colleagues there as well. There are more photos on the Performing and Scrapbook tabs. The New York Times reviewed us and I returned to Puerto Rico just as the strikes finished and both the CMPR and PRSO were returning to work.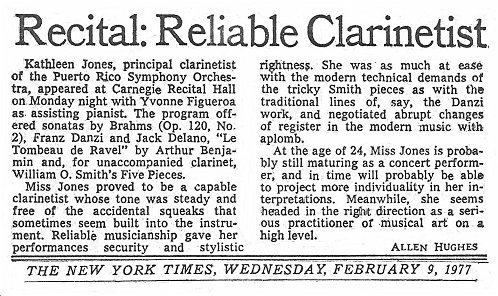 The PRSO had a series of guest conductors: Gerald Thatcher, Sydney Harth, José Serebrier, Jesse Levine and Odon Alonso. We did Dvorak's New World and Shostakovich's, Tchaikowsky's, and Beethoven's Fifth, as well as Copland's Salon Mexico and Barber's Medea's Dance. In March I repeated my Carnegie Hall program at the Institute of Puerto Rican Culture, this time with pianist Luz Hutchinson. The orchestra season continued with The Planets, Beethoven's Eroica, Tannhauser Overture, and Prokofiev's Romeo and Juliet. On May 3rd I had my first opportunity to play the wonderful Divertimento del Sur by Héctor Campos Parsi, for flute, clarinet and strings. (It is a neo-classical style work, which deserves a place in the international concert repertoire, in my opinion.) On May 7th we played Verdi's Trovatore under Maestro Stinco (!) in the UPR pit. Beethoven's 7th, Capriccio Español and Brahms 1 were played with Kenneth Klein conducting.
On June 4th and 9th the PRSO played for the first time in the Casals Festival—a big step! Then, the Casals Festival Orchestra was presented in five concerts; Michele Zukovsky, who had been playing principal for several years, couldn't stay for the last one due to other commitments, so, based on my audition from the previous year, I was asked to play principal. I was thrilled!!!! On June 23rd Peter Maag conducted Leonora #3, the Tchaikowsky Piano Concerto, Debussy's Iberia and Ravel's La Valse and I was there, sitting in the revered chair that had been occupied in previous Festivals by Mitchell Lurie, Robert Marcellus, Harold Wright, and Michele Zukovsky. Playing in that orchestra was like riding in a sports car—fine tuned, fast, clean, and beautiful!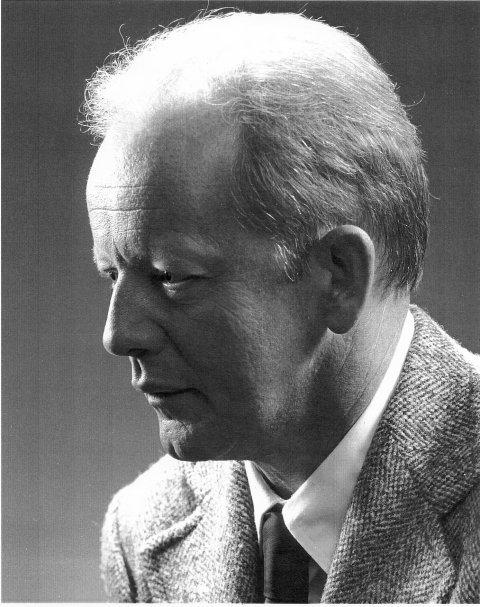 I still had an interest in studying with Robert Marcellus, who, since his forced retirement from the principal chair in the Cleveland Orchestra, was teaching at Northwestern University in Evanston, IL. I had heard that he was giving master classes there in the summer, so I had contacted him and was accepted to play the first movement of the Mozart Concerto. When the classes began on July 28th I was in awe. Marcellus, a diabetic, was under strict doctor's orders to play no more than a few seconds at a time, in order to prevent his remaining "good" eye from being damaged. So, his demonstrations were short, and exceedingly beautiful.
He opened the classes with a general overview of sound and how to practice. He quoted the pianist Artur Schnabel: "If you know your musical path, the technical problems will be resolved." And he presented a "Tonal Retrospective," excerpts from recordings of great clarinetists that he said had been his greatest influences—Bellison, Louis DeSantis, Bonade, and others. The sounds were exquisite, the approach irreproachable. I took one private lesson (which I think cost $100 for the hour) and was sure that I would be returning to this place. He spoke of Casals and the Casals Festivals (where he had played the Brahms Trio with the venerable old man and pianist Eugene Istomin.) He spoke of Szell and the Cleveland Orchestra—"chamber music with 101 musicians." When Marcellus spoke, there was a respect, a reverence for music. It was deeply inspiring.
I arrived out west that July great joy—besides my two "regular" jobs of teaching at the CMPR and playing in the PRSO, I had played in Carnegie Recital Hall, in the Casals Festival Orchestra, and at the Marcellus Master Classes. My horizons were widening!