The ClarinetFest in Paris in 1996 was a tremendous inspiration for me. I will never forget performances by William O. Smith (playing duets with himself,) by Bela Kovacs and his outstanding clarinet ensemble, and by the Caracas Clarinet Quartet. This last group made such a great impression that I decided to start a small clarinet festival at the Puerto Rico Conservatory, to bring some of that inspiration in to the students who couldn't afford to go out to the international festivals.
With help from the Corporación de las Artes Musicales (CAM,) in March of 1997 we presented the CMPR's first Festival de Clarinete, with invited guests Fred Ormand, from the University of Michigan, and Tom Riddenour, then from the Leblanc Corporation. It was a great success.
The following year, we invited William McColl, from the University of Washington; Jerry Hall, a barrel maker from Alabama; and the Caracas Clarinet Quartet. The Quartet's concert on March 22nd, standing room only in the Sala Sanromá, was received with tremendous enthusiasm.
Here is a picture taken after their performance: from left, Jorge Montilla, leader and E-flat; Maria del Carmen Gil, CMPR chancellor; myself, behind; Victor Salamanqués, alto clarinet; Orlando Pimentel, B-flat; and Carlos Bello, bass clarinet.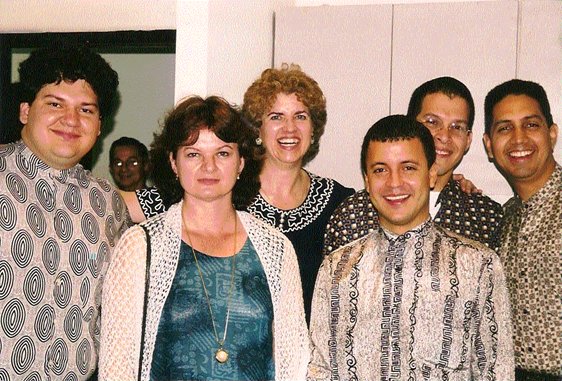 Here are a couple photos, taken by Sandra Ortiz, of some of those attending that Festival de Clarinete II:
Standing, from left: Luis Espinosa, Nelson Vega, Wilson Méndez, José (Furrito) Ríos, and, seated, Julio Loíz. They are all fine teachers and/or players. Furrito is a co-González Reed Artist! (visit www.gonzalezreeds.com)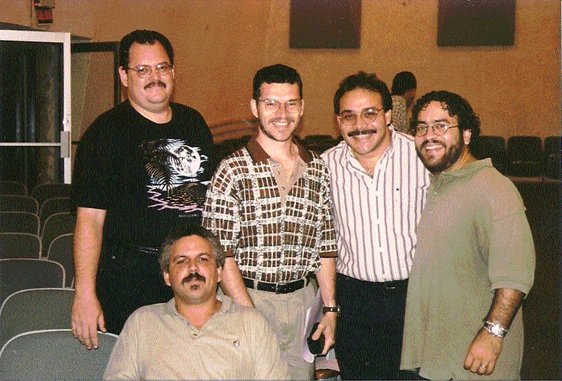 Here is Rafael Bracero, the second clarinetist in the PRSO when I arrived in 1975, for many years after. He is a dedicated teacher at the Caguas "Free" School of Music, seated with Ada Rodríguez, another dedicated teacher, at the Escuela de Bellas Artes in Ponce. Thanks for sending these photos, Bracero!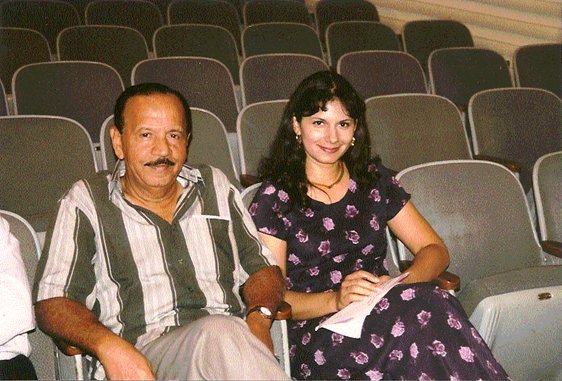 There were seven subsequent Festivales de Clarinete at the CMPR—the students loved them! More photos and information will be coming month-by-month.
Our IV Festival de Clarinete at the Conservatorio de Música de Puerto Rico, January 31—February 4, 2001 brought two legends to the island: Mitchell Lurie, and Ricardo Morales, pictured here with me, and our Chancellor, Maria del Carmen Gil. It was an inspiring five days!! Memorable quotes from Mr. Lurie included "Never loud, but always to be heard," and "Take the time to do it right." From Ricardo we remember "If you are scared, play louder!" and "Your mind is always remembering what you do." (If I find the recording of his recital, I'll put a sample up here of Ricardo and me playing the First Mendelssohn Concertpiece.)