December 2012:
PRSO: Dec. 15th, subscription concert with Guillermo Figueroa on the podium: a work by Elgar for strings; Higdon, Percussion Concerto (Lisa Peguer,) Bartok's Miraculous Mandarin, and concluding with Ravel's La Valse.
PRSO: Dec. 8th, subscription concerto with Roselin Pabon on the podium: Stravinsky, Sinfonia for Winds; Vaughan Williams Tuba Concerto, with our own tremendous Ruben Ramirez; and Borodin's 2nd Symphony.
PRSO: Dec. 1st, subscription concert with guest Fabio Mecchetti conducting: Guarnieri, Brasileira; Ernesto Cordero's Bayoan, with guitarist Rene Izquierdo; and Tchaikowsky #2.
November 2012:
CMPR: Nov. 11th, I played the world premiere of William Ortiz's Calle y Suenos, for clarinet and piano, on a Camerata Caribe concert in Sala Sanroma.
October 2012:
PRSO: Oct. 6th subscription concert: Carlos Vazquez, Caribbean Echoes; Stravinsky, Song of the Nightengale, and Firebird 1945. Denis Sedov, soloist; Maximiano Valdes conducting.
CMPR: Oct. 5th master class with Myroslava Hawryluk: in front, from left: Edanette Tirado, Erika Silva, Jesuet Gonzalez, Glory Sanchez, Anthony Ortiz; standing, from left: Ada Rodriguez, Liza Nazario, Yurina Berrios, Janice Rivera, Juan Soto, Professor Hawryluk, me, Victor Carrion, and Jonathan Cosme.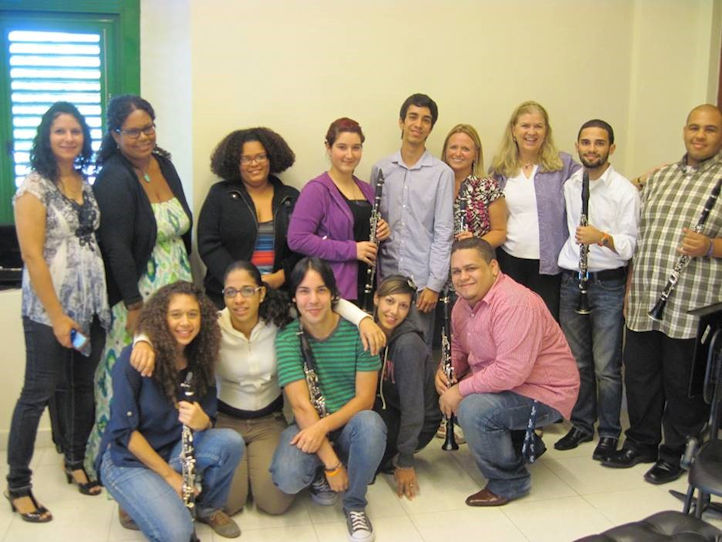 And here a photo of Myroslava and myself with our beloved pianist, Rafael Sueiras, now battling Lou Gehrig's disease. Our prayers continue with Rafi.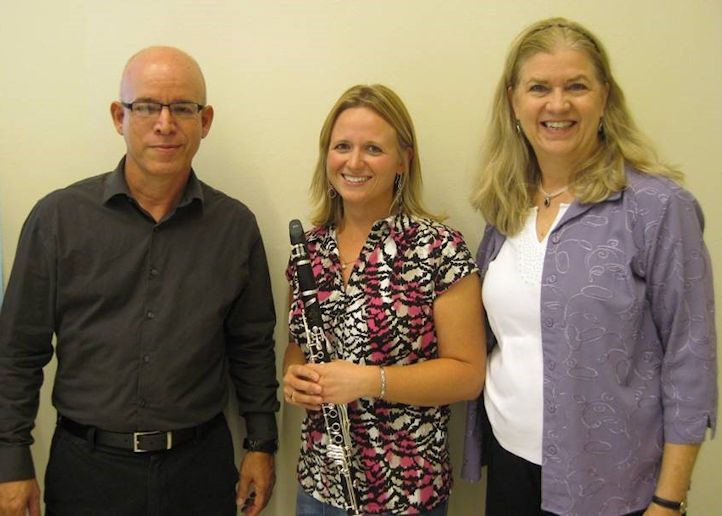 September 2012:
CMPR: Sept. 22nd the Conservatorio de Musica de Puerto Rico inaugurated its new hall, Sala Sanroma in the Teatro Bertita and Guillermo Martinez. This was an historic concert—the CMPR officially opening its new facilities to the public—and all of our major groups performed. Credit must be given to then-Chancellor, now- Professor Maria del Carmen Gil for her vision and dedication during the 16-some years she shepherded the project of the CMPR moving from the concrete warehouse in Hato Rey to our new, beautiful, built-for-us facilities. THANK YOU, Maria!!
PRSO: Sept. 15th subscription concert, Maximiano Valdes conducting: Brahms Hungarian Dances 1 and 5; Beethoven Violin Concerto (Stefan Jackiw,) and Bartok's Concerto for Orchestra.
CMPR: Sept. 13th master class with Paquito D'Rivera in the clarinet studio, room 307 in our new building. There must have been 20 or more of us wind players crammed into my studio, the only available space for a last-minute class offered by one of our true legends.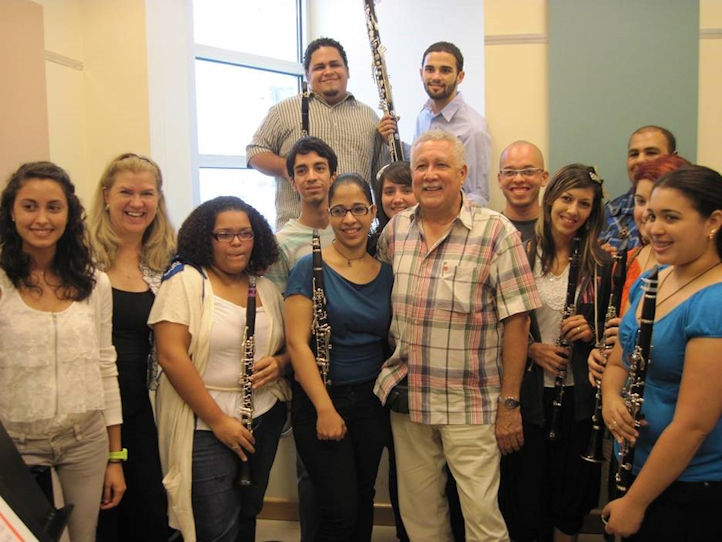 And here he is again, working with the band and its conductor, Rafael Enrique Irizarry, now the Associate Conductor of the PRSO: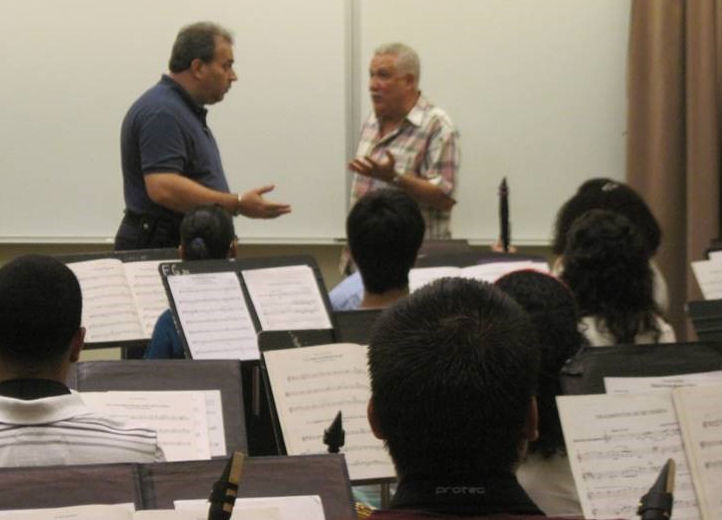 CMPR: Sept. 14th visit from the incomparable Paquito D'Rivera to our seminar room, #210 in a historic building from the 1890's, built by the Spanish before the US took over Puerto Rico. Standing, from left: Ada Rodriguez, Pianist Rafi Sueiras, Anthony Ortiz, Jesuet Gonzalez, me, PAQUITO!, Erika Silva, Janice Rivera, Victor Carrion, Yelitza Borges, Jonathan Cosme; kneeling, from left: Yurina Berrios, Glory Sanchez and Juan Soto.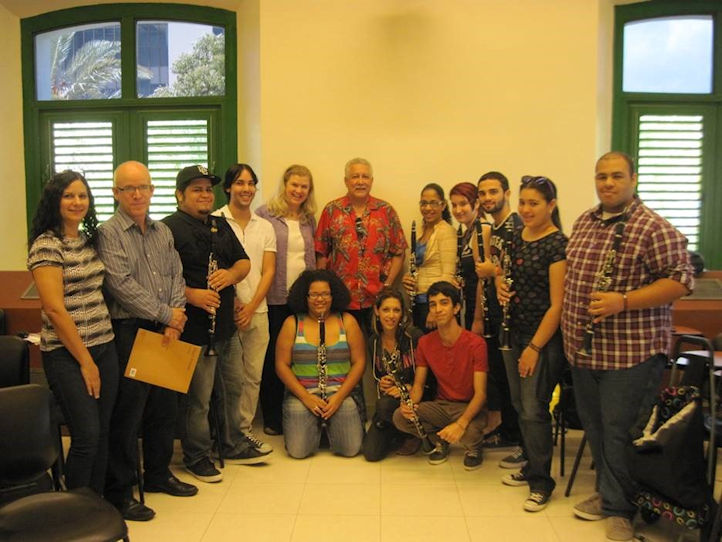 PRSO: Sept. 8th—Turandot, presented by Opera de Puerto Rico.
August 2012:
CMPR: August 17th master class by Noel Marcano and his flutist wife, Melisa Trinidad-Laboy.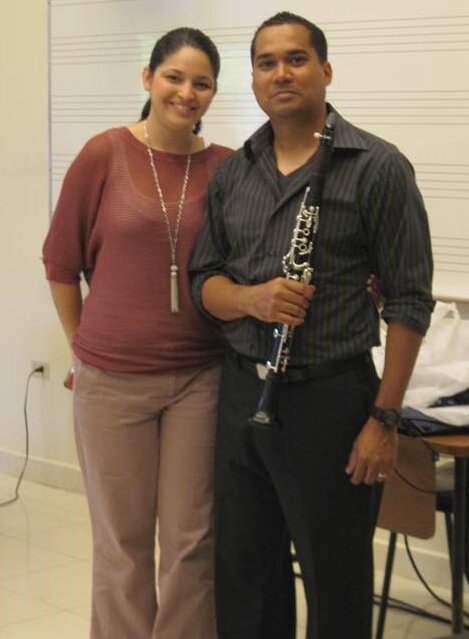 PRSO: August 13th we returned from our summer break to begin our 2012-13 season with a concert opening the Interamerican Festival on the 18th, at the UPR Theater with works by Carlos Carrillo, Evencio Castellanos and Villa Lobos' Bachianas Brasilleiras #2.
CMPR: Camerata Caribe, chamber group founded in 1982 at the CMPR, presented a concert in Las Vegas at the International Flute Convention on August 11th. Works, by Puerto Rican composers, included Toccata, Jose Rodriguez Alvira; Mariposas, Roberto Sierra; Latino, William Ortiz, and Que Tapon, by Luis Rodriguez. We also participated in another program which required a double wind quartet for a work by Alwyn. Caesar's Palace was a great location for a convention!
CMPR: I went to ClarinetFest 2012, in Lincoln, Nebraska, Aug. 1st-5th, chairing a panel discussion about Robert Marcellus on the morning of August 3rd, and playing Cinco Bocetos (in its original version) by Roberto Sierra in a Tribute Concert to Marcellus that afternoon.