June 2012:
June 24-29 I spent at the Oregon Suzuki Institute with my 13-year-old violinist daughter. You can learn a lot by watching master teachers teach—whatever the instrument.
PRSO: June 2nd, subscription concert: our assistant principal flutist, Jonathan Figueroa was soloist in the Chaminade Concertino; also up under Maximiano Valdes' baton was Debussy's La Mer and the Franck d minor Symphony.
May 2012:
PRSO: May 19th, subscription concert with Schumann's 1st Symphony under the baton of Daniel Hege.
April 2012:
PRSO: April 14th, subscription concerto with soloist Guillermo (Guillermito) Figueroa playing Bartok's Violin Concerto #2; after intermission, Beethoven's 6th Symphony. Maximiano Valdes on the podium.
CMPR: April 14th, David Shifrin gives a master class sponsored by Buffet. Here are Erika Silva, Javier Van Tull, me, David, Rafi Sueiras, Janice Rivera, Anthony Ortiz, Yelitza Borges, Yurina Berrios and Leyshla Santiago.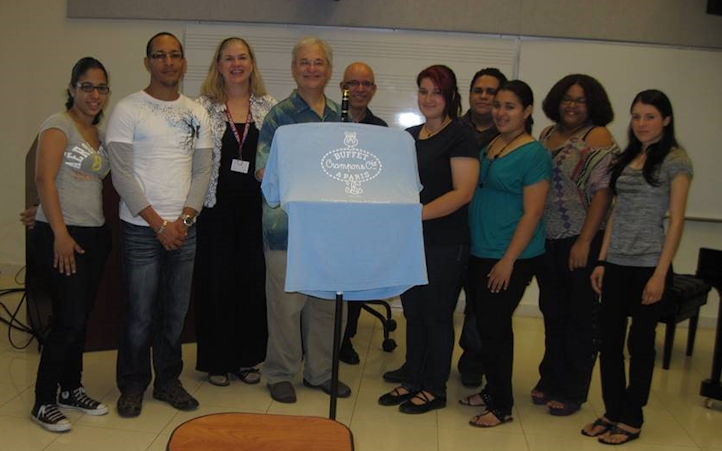 CMPR: April 13th, our then Associate Dean Brian Cole (now at North Carolina School for the Arts,) joins us in seminar.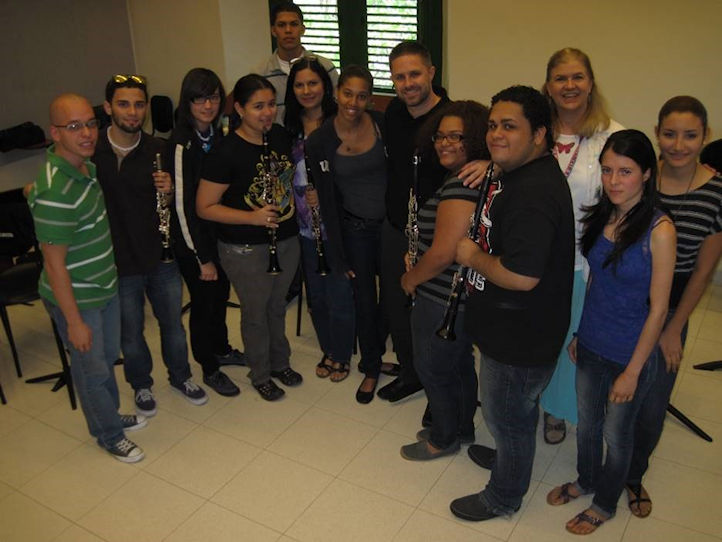 March 2012:
PRSO: March 24th, Experiencia Sinfonica in Sala Sinfonica with Juan Soto, George Morales, Janice Rivera, Emmanuel (Pochi) Diaz, and me.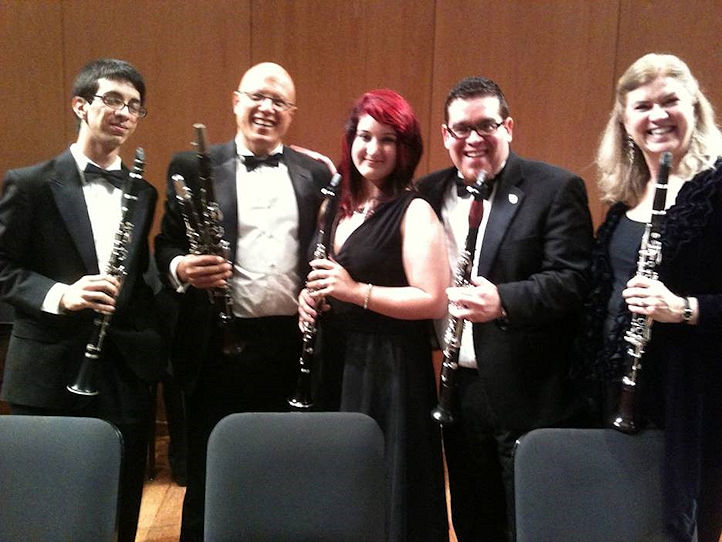 PRSO: three interesting Casals Festival concerts:
March 17th: Carlos Carrillo; Prokofiev Piano Concerto #3 (Kozhukhin) and Berlioz Sinfonie Fantastique, with Hans Graf conducting.
March 19th: Adams, The Chairman Dances; Rachmaninoff, Symphonic Dances; and the Brahms Violin Concerto with Gil Shaham; Maximiano Valdes conducting.
March 3rd: Hindemith, Mathis del Maler; Mahler, Song of the Earth; Yoav Talmi conducting.
February 2012:
Suzuki Workshop: Feb. 20th, the annual Suzuki workshop is wrapping up. I have learned so so much by observing the master teachers Linda and Dominick DiFiore as they have taught our two children violin over the years. Here is a photo from the President's Day workshop, with Dominick and Linda with three young violinists (two of whom are now Conservatory students,) and a mom (the third leg of the Suzuki triangle,) on the far right.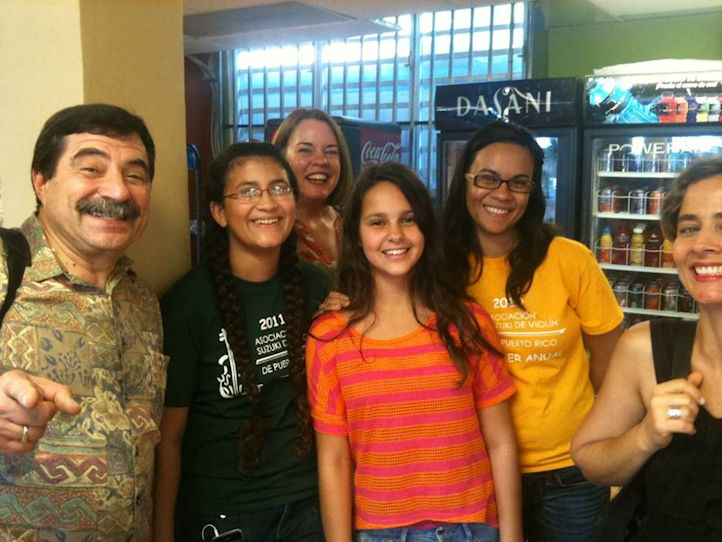 CMPR: Feb. 17th master class with Dr. D. Ray McClellan, here shown with Erika Silva and Anthony Ortiz. This class was held at the YWCA, across the street, because the new building was not yet open.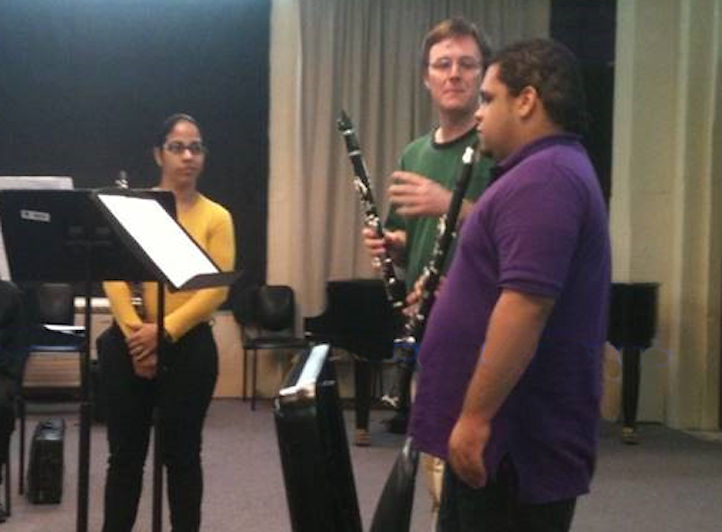 PRSO: Feb 11th subscription concert with guest conductor Enrique Arturo Diemecke; Rossini, Cinderella Overture; Respighi, The Birds; Nielsen, Symphony #4.
January 2012:
PRSO: Jan. 28th, subscription concert: Penderecki Piano Concerto (Rubackyte) and Shostakovich #10; Maximiano Valdes conducting.
PRSO: Jan. 21st, special concert at Interamerican University with guest conductor Brian Cole: Vivaldi Piccolo Concerto with Ana Maria Hernandez; Krommer Concerto for Two Clarinets, Op. 35, with Kathleen Jones and Emmanuel Diaz soloists; and Beethoven's 4th Symphony. That Krommer is fun to play!
PRSO: Jan. 14th, subscription concert with Ingrid Fliter playing the Schumann Piano Concerto; Sibelius Symphony #5; Maximiano Valdes conducting.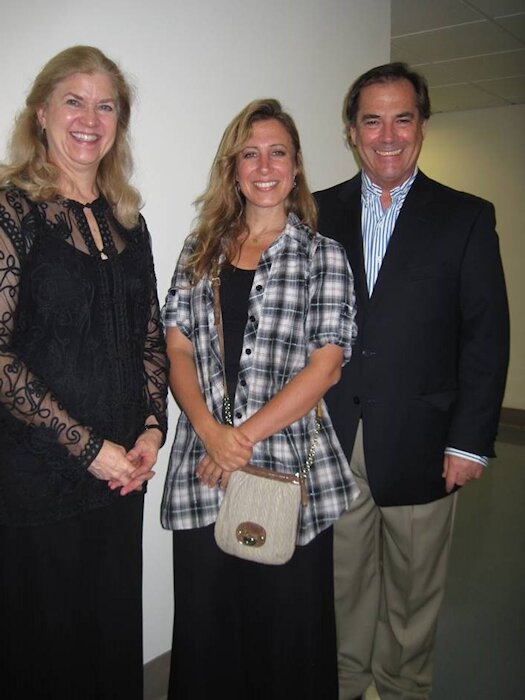 And here she was about to begin the dress rehearsal, in our Sala Sinfonica: then-concertmaster Henry Hutchinson is to the upper right; principal second violin Inoel Jirau is in the center foreground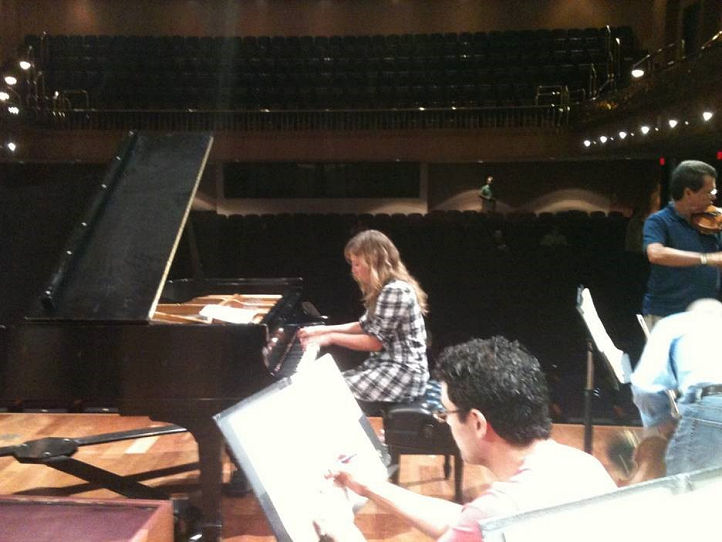 PRSO: January 5th is our annual Three Kings Concert. Here are three of us winds—next to me is 2nd clarinetist Emmanuel (Pochi) Diaz, and on the right, our piccolo player, Ana Maria (Anita) Hernandez. Anita is an example of "Good things come in small packages." We put her on the top step so our heads would all be even!