June 2016:
CMPR: Serenata Cantabile in Sala Sanroma on June 12th—music for clarinet and fabulous sopranos, including Sara Garcia, Sibelle Marquez, Camila Otero, Carmenchu Dominguez, and Esthermari Barbosa.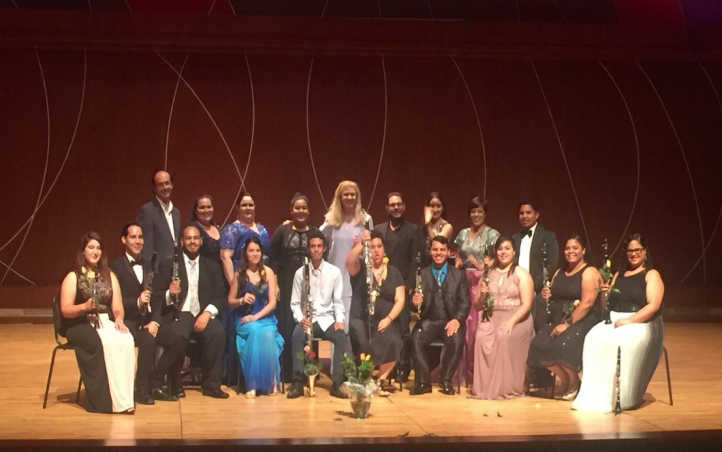 Seated, from left, Janice Rivera (E-flat,) Jesuet Gonzalez, Jonathan Cosme, Leyshla Santiago, Omar Torres (bass,) Maria Ivelisse Ortiz (alto,) Jean Paul Torres, Yelitza Borges, Laura Correa, Veronica Burgos; standing: composer Alberto Guidobaldi (Tiripitapate and Three-Minute Rag,) Sara Garcia, Esthermari Barbosa, Carmenchu Dominguez, Kathleen Jones, composer Carlos Lamboy (Cascadas,) Camila Otero, Sibelle Marquez and pianist Prof. Ernesto Busigo.
PRSO: June 10 and 11 we played the 8th and 9th sold-out Stars Wars concerts. Movie music is VERY popular here!
May 2016:
CMPR: ClarinetDay on May 30th with special guest, CMPR graduate, now doctoral candidate at the University of South Carolina, Maria Ivelisse Ortiz.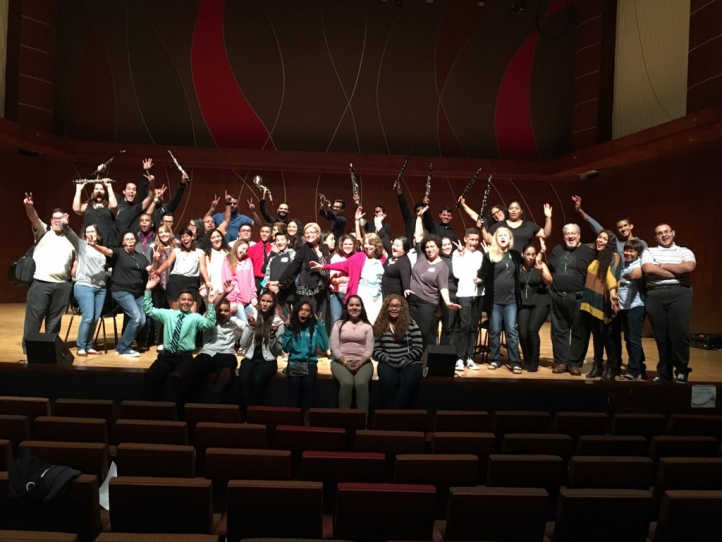 ClarinetDay 2016—too many to name, and everybody is happy!
PRSO: Experiencia Sinfonica finishes on May 28th.
The 2016 Experiencia Sinfonica clarinetists, with Kathy and Pochi seated in front.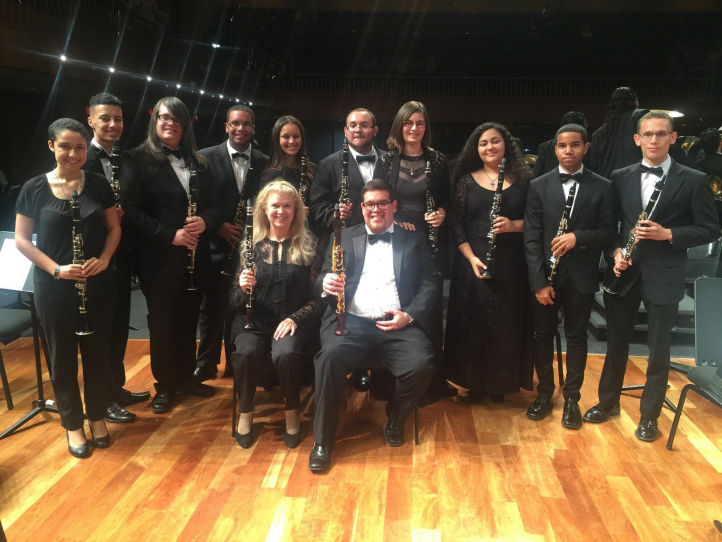 CMPR: May 14th at 4 p.m.—Leyshla Zoe Santiago– graduation recital: Danzi, Concerto Piece #1; Kovacs, Hommage a Bartok; Brahms Sonata #2; Guidobaldi, Fantasia; Bruch, from the Eight Pieces, Andante and Andante con moto; Mangani, Blues.
Here is Leyshla after her recital with clarinetists Jonathan Cosme, Juan Soto, Jesuet Gonzalez, (me,) Omar Torres and Victor Carrion.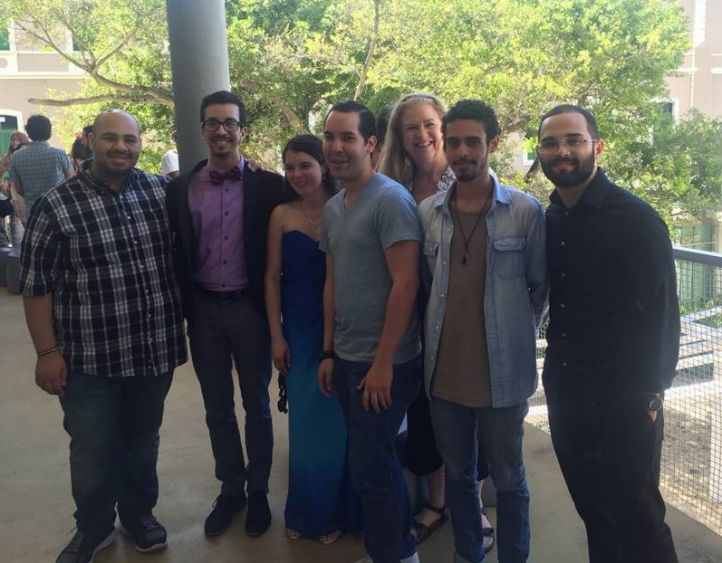 CMPR: May 14th at 11 a.m.—Janice Rivera Montes—graduation recital: Haydn, Trio #1 for flute, oboe and clarinet; Kovacs, Hommage a Khatschaturian; Brahms, Sonata #1; Guidobaldi, The Adventures of Pinocchio; Guastavino, Sonata; Kovacs, After you, Mr. Gershwin!
Here is Janice after her recital with her pianist, Jorge Ramos, (and me.)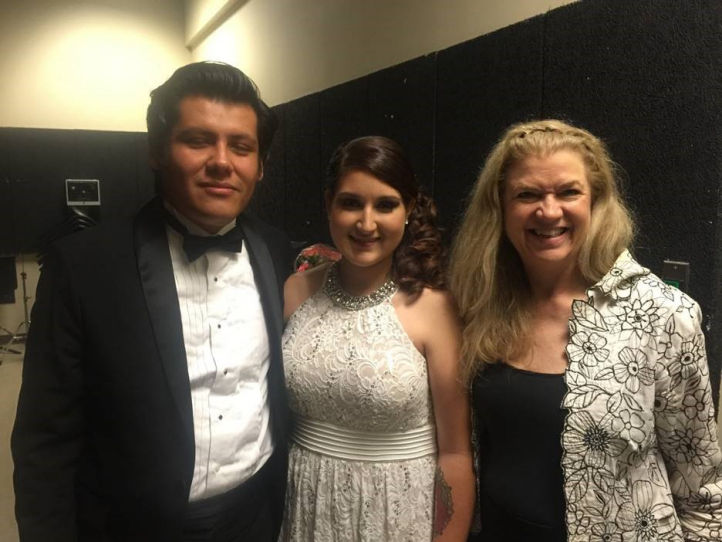 CMPR: May 9th—Juan Soto—graduation recital: Mozart, Parto, Parto; Sutermeister, Capriccio; Carlos Vazquez, Sonata Boricuotica; Hindemith, Sonata; Messager, Solo de Concours.
CMPR: May 7th—Jesuet H. Gonzalez Arbelo—graduation recital for the Artist's Diploma: Schumann, Fantasy Pieces; Sierra, Cinco Bocetos; Stamitz, Quartet #4 in E-flat Major, Op. 8; Debussy Premiere Rhapsody; Marquez, Zarabandeo.
April 2016:
CMPR: April 3rd I play the Adventures of Pinocchio by Alberto Guidobaldi on a Camerata Caribe concert with Pedro Juan Jimenez. A video recording is available, posted on YouTube by Esto es el agua, a blog by culture journalist Mario Alegre-Barrios.
Thanks, Mario! You are there documenting so many good things about Puerto Rico!
March 2016:
Chamber music: Schubert Octet, March 20 on Henry Hutchinson's series at Interamerican University in Ponce.
PRSO: Casals Festival concludes on March 12th at the UPR Theater with Jesus Lopez Cobos conducting us in an Ariaga Overture, the Mendelssohn Violin Concerto and Beethoven 3.
February 2016:
PRSO: Casals Festival opens at the University of Puerto Rico Theater on Feb. 20th with Strauss Preludio Festivo (to highlight the great new organ installed there,) and the Strauss Four Last Songs; Sierra's 5th Symphony and ending with Ravel's Daphnis and Chloe Second Suite.
Kathy: On Valentines Day I took a 3 a.m. flight up to JFK to go the Russianoff Memorial Day at the Manhattan School. I gave the New York premiere of Alberto Guidobaldi's fabulous Adventures of Pinochio, and was very happy to be there sharing the nostalgic look back on Leon's life and contributions.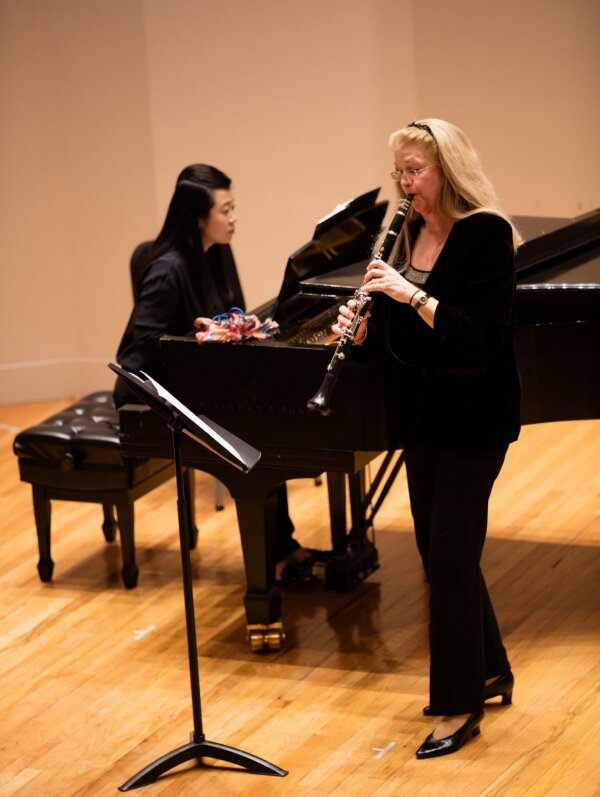 Here I am with Yumi Ito, the WONDERFUL accompanist the Manhattan School provided.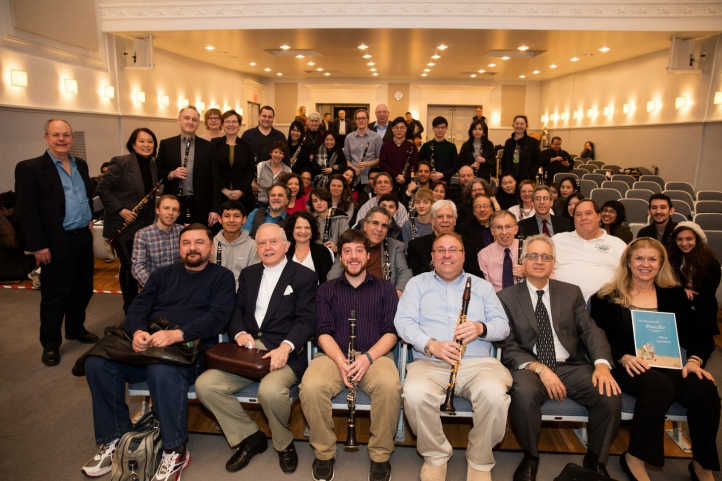 February 14, 2016 at the Manhattan School of Music finalizing the Russianoff Tribute Day
PRSO: Feb. 6th Jeffrey Kahane guest conducted Schubert's Unfinished, Haydn #88, and was soloist in a Mozart Piano Concerto, scheduled to be the 26th in D Major, which has no clarinets. So on Monday I am happy at home, then get a call five minutes before the first rehearsal was due to start—"Did they tell you that they changed the concerto to # __?(with very important clarinet parts…..) NOOOOOO—race, race, race to get there as quick as I could….. Any concerto with the soloist conducting requires tremendous concentration. That was a good week, because Kahane is such a great musician, but it sure started with a JOLT!!!
CMPR: On Feb. 3rd Eli Eban from Indiana University gives a master class for students Leyshla Santiago, Laura Correa, Jesuet Gonzalez, Veronica Burgos, Jonathan Cosme (Prof. Eban, Profa. Jones,) and Victor Carrion. Also in this picture, on the far right, is his student from IU who played in the Puerto Rico Chamber Orchestra with him. Note that the two from Indiana are bundled up to protect themselves from the bitter cold air conditioning of Sala Sanroma!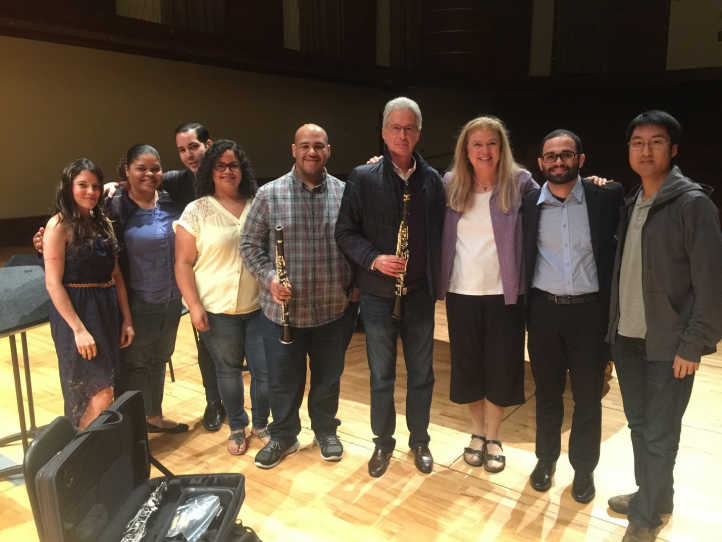 January 2016:
Here is my dear friend Annette Luyben with her beautiful dog, Luke, my student Victor Carrion and his friend Mickayla Chapman, who stopped by to visit the renowned Luyben Music in Kansas City, MO on the 27th of January.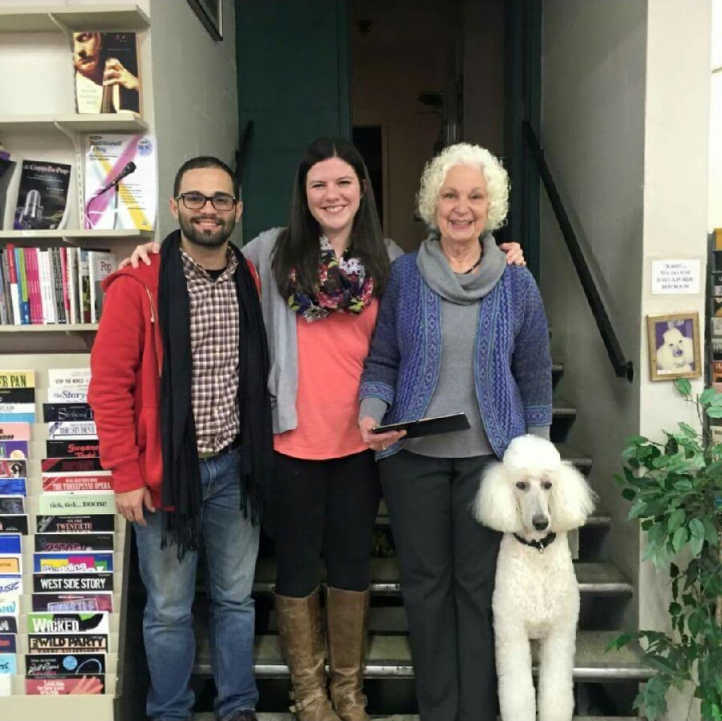 PRSO: Jan. 16th our former orchestra member Jaime Amador visited as viola soloist in Berlioz's Harold in Italy. Also on the program Salome's Dance and Rosenkavalier Waltzes, conducted by Maximiano Valdes.