December 2016:
PRSO: Dec. 17th plays a free Christmas concert at El Morro, our famed 16th-Century fort that guards the entrance to the San Juan harbor. Pretty spectacular backdrop! Here is a picture of the approaching storm, that ended up raining us out.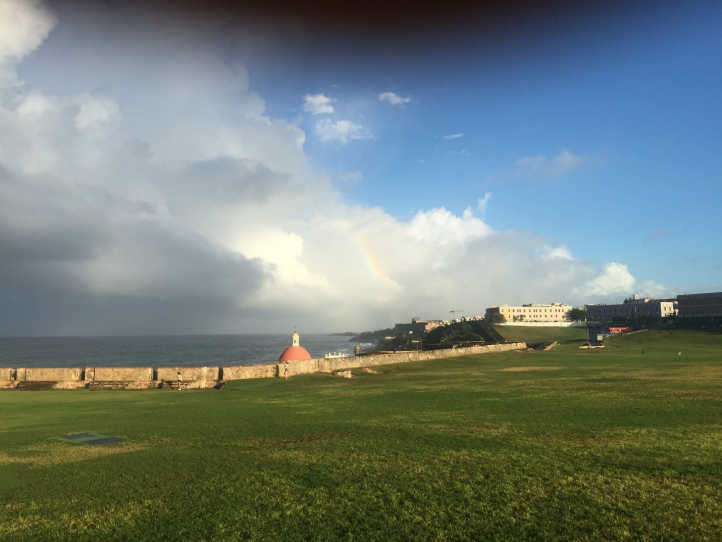 And one of our violists, Jean Carlos Faria, looking like he had the pot of gold in his hand…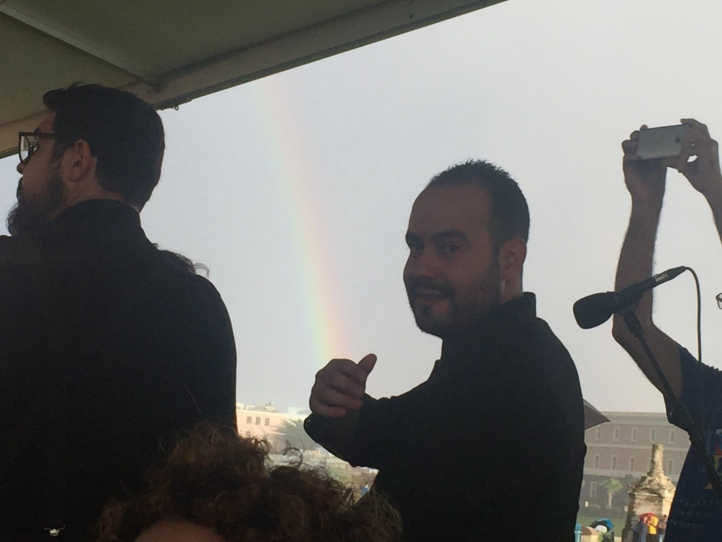 PRSO: Dec. 3rd, subscription concert: Dvorak Noonday Witch, Korngold Violin Concerto (Quint) and Bartok Concerto for Orchestra, Maximiano Valdes conducting.
November 2016:
CMPR: Nov. 29th—Veronica Burgos Perez, junior recital: Schumann Three Romances; Widor, Introduction et Rondo; Artie Shaw, Concerto for Clarinet.
CMPR: Nov. 21st—Jonathan Cosme, graduation recital: Crusell, Quartet #1 in E-flat Major, Op.2; Penderecki, Prelude for Solo Clarinet; R. Boscio, The Chaplin Act, for clarinet, trombone, and piano; Muczynski, Time Pieces; Lefebvre, Fantasie-Caprice.
PRSO: Nov. 18th, subscription concert: Ginastera Variaciones Concertantes (I do it all on B-flat, as written,) Villa Lobos Guitar Concerto (Barruecos,) and Bernstein West Side Story Symphonic Dances, with Maximiano Valdes conducting.
PRSO: Nov. 5th with guest conductor Diemecke, Ginastera Estancias, Villa Lobos Choros #10 and Dvorak's 8th.
October 2016:
PRSO: Oct. 22nd subscription concert with our former music director Guillermo Figueroa: Russlan and Ludmilla Overture, Glazunov Violin Concerto (Narciso Figueroa,) and Rachmaninoff 2nd Symphony.
A little more information–when I arrived on the island in 1975, the PRSO (OSPR) had four brothers in key chairs: Jose (Pepito) Figueroa, concertmaster, Kachiro, assistant concertmaster, Guillermo, principal viola, and Rafael in the cello section. They were excellent musicians, had studied in Paris, and in 1958 were founding members of the PR Symphony. They were dignified, kind, and exemplified how to play on stage. I loved those old guys, later choosing the name of their father for the scholarship fund, Beca Don Jesus Figueroa, which I set up to help my students. Flash forward 58 years, and now it is the next generation of the Figueroa family up front: Guillermo's son (Guillermito, we call him,) on the podium, and one of Kachiro's sons as soloist (Narciso plays in the Metropolitan Opera Orchestra along with his brother, principal cellist Rafael Figueroa.) Puerto Rico is very proud of the contributions and accomplishments of the Familia Figueroa!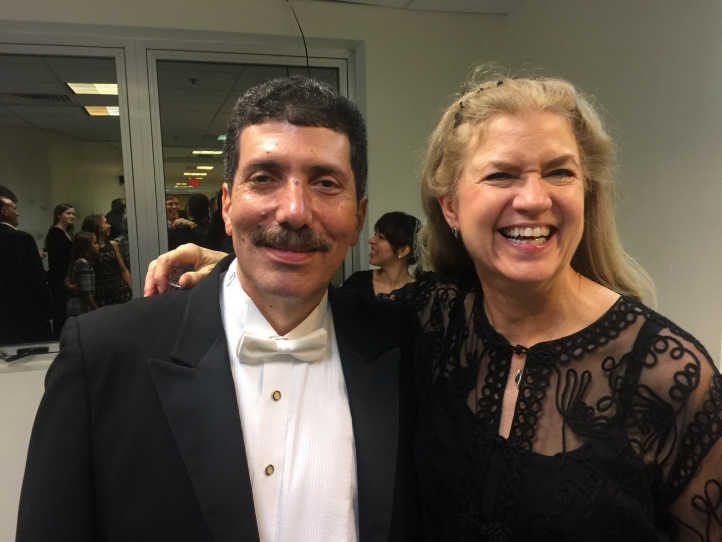 Violin soloist Narciso Figueroa and Kathleen Jones after the Glazunov Concerto at Sala Sinfonica, Oct. 22, 2016.
CMPR: Oct. 21st my student Jonathan Cosme wins the concerto competition playing K.622. (He is now at Rutgers studying for his master's degree. Go Jonathan!)
PRSO: Oct. 15th: sponsored by Culturarte, with Maximiano Valdes on the podium, and the fabulous Lang Lang at the piano; Borodin Polovetsian Dances, Rachmaninoff's 2nd piano concerto and Firebird 1919.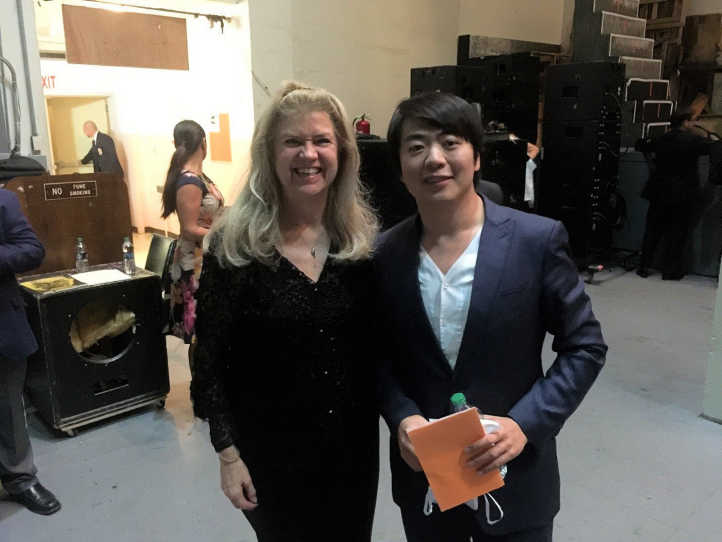 This is me with Lang Lang, Oct. 15th, backstage in the Sala de Festivales de Centro de Bellas Artes, after Rachmaninoff's 2nd piano concerto. What an artist! It was a joy to play that work with him!
PRSO: in the pit for Verdi's Otello, October 6 and 8. Our associate conductor, Rafael Enrique Irizarry had to step in on about 10-day notice to learn and conduct the whole opera. He did it!
September 2016:
PRSO: We opened the 2016-17 subscription season with Shostakovich #11. As you may have noticed above, this season had some notes for the first clarinetist!
August 2016:
PRSO: On August 28th we had a few logistical problems getting to El Morro to play a concert honoring the 100th anniversary of the (U.S.) National Park Service. When we finally got set up, I belted out the solos of Borodin's Polovetsian Dances so loud I think it woke up the Spanish conquistadors buried in the cemetery next door…
PRSO: On August 13th we had an outdoor concert in the beautiful Jardin Botanico (Botanical Garden,) at the same time as the Olympic Women's Tennis Gold Medal match, with our local girl Monica Puig on the court. We were playing the concert, watching our music, and anytime we could, stealing a glance at our phones, on mute… When she won, there was a huge cheer from the audience, watching their phones too! The pride was palpable, and audible! Luckily, when she won, our concert was almost over. After that, CELEBRATIONS! One of the reasons cited by PR Statehood opponents is that becoming the 51st state would mean Puerto Rico could no longer compete under its own flag in the Olympics or in the beauty pageants. There have been five Miss Universes from here—a distinction not easily relinquished.
CMPR: the Conservatory's Clarinet Choir went to ClarinetFest 2016 in Lawrence, Kansas, playing a program of Puerto Rican works on August 7th at 9 a.m. You can see a recording of the presentation on the faceBook page Coro de Clarinetes del CMPR.Thanks to our donors to the Beca Don Jesus Figueroa, and to our angels Jo Taylor and Ed Rosa-Molinar, who took such good care of us! They had just moved to Lawrence from San Juan and treated all 14 of us like family!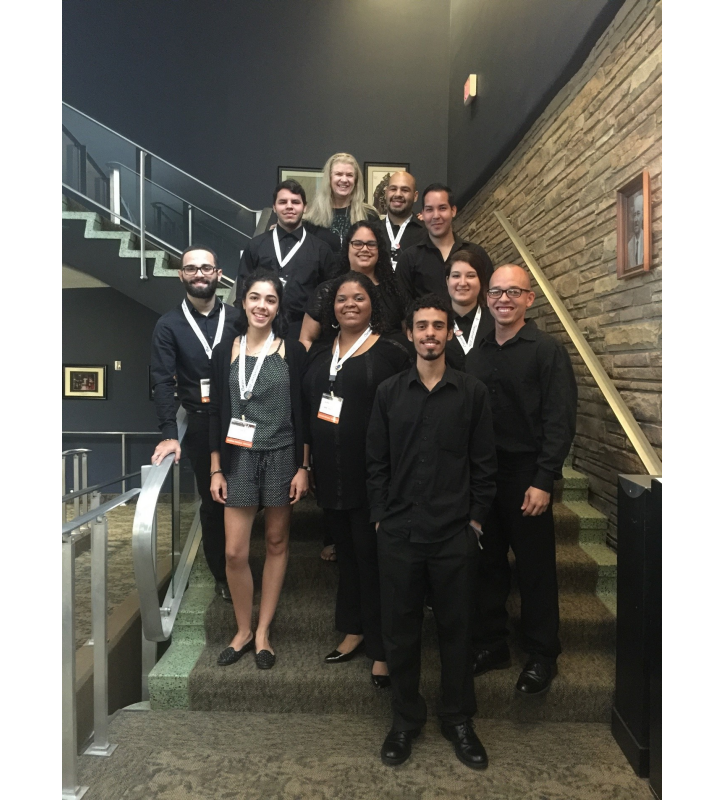 Lowest to highest, left to right: Omar Torres, Clara Ruiz, Laura Correa, Jubal Rosado, Victor Carrion, Veronica Burgos, Janice Rivera, Jean Paul Torres, Jonathan Cosme, Jesuet Gonzalez, and Kathleen Jones, August 7, 2016, University of Kansas at Lawrence, after finishing the Choir's presentation at ClarinetFest.