December 2013:
Casa Cleary Jones: December 24, seven weeks post-op, we are grateful to have that guy at the right looking so good. See below.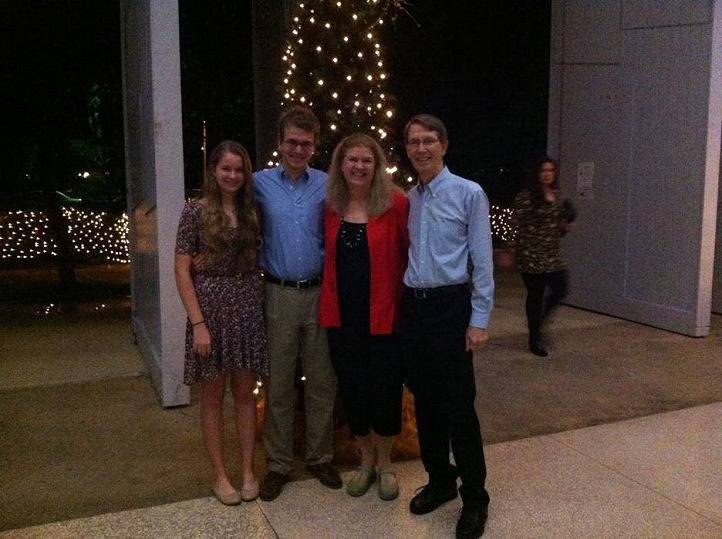 CMPR: Dec. 20th—Anthony Ortiz Ocasio—graduation recital—Schumann, Fantasy Pieces; Kupferman, Moonflowers, Baby!; Krommer, Concerto for 2 clarinets, Op. 91, with Erika Silva; Bozza, Bucolique; Sonia Morales, Divertimento Caribeno #2.
PRSO: Dec. 14th—Dvorak Cello Concerto (Bailey) and Lutoslawski's Concerto for Orchestra, with Maximiano Valdes conducting.
November 2013:
Casa Cleary Jones: Here we are early on the morning of Nov. 14th, walking my husband in to the hospital for his major heart surgery, hoping he'd come out okay. Thank God and the very, very fine doctors and nurses, he came through with flying colors!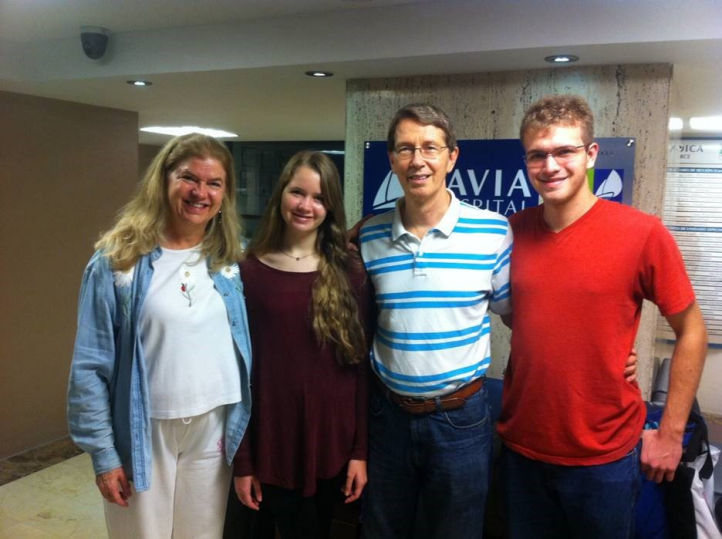 The month of November was dedicated to my husband, who, thanks to fabulous doctors, was diagnosed just in time with a heart problem that gave him no signals of its seriousness. Drs. Lastra and Hernandez fixed him up, and we are very, very grateful!
October 2013:
CMPR: at seminar in late October the kids surprised me with a birthday party!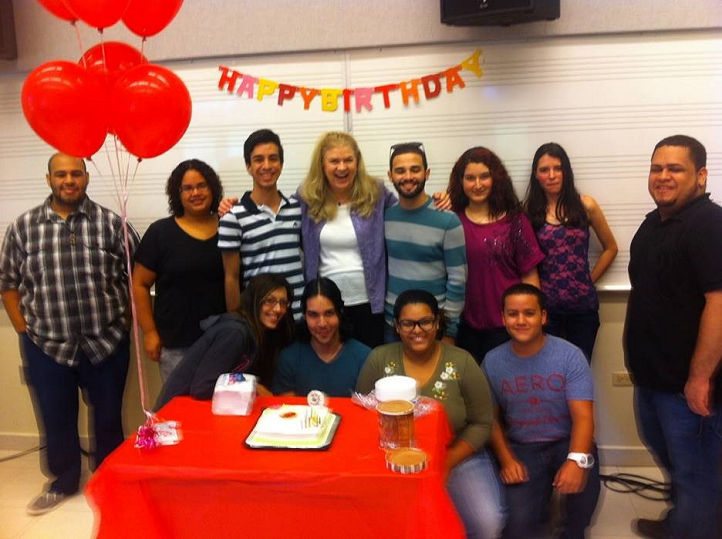 PRSO: Oct. 19th—Beethoven, Leonora Overture #2; Haydn #101; Strauss Oboe Concerto with Dr. Frances Colon; and Prokofiev's Classical Symphony, under the baton of Rafael Enrique Irizarry.
PRSO: Oct. 5th—(now here is repertoire destined to bring on a bout of tendonitis:) Roussel, Bacchus and Ariadne Suite #2; de Falla's Seven Popular Songs, with our wonderful Meechot Marrero Marrero (now with the Berlin Opera); Ravel, Alborada del Gracioso; and Ravel's Daphnis and Chloe 2nd Suite, guest conducted by Philippe Bender.
September 2013:
PRSO: Sept. 21st—Kodaly's Galanta Dances, Shostokovich Violin Concerto #2, with Suwanai; and Sibelius #2, with Maximiano Valdes conducting. (Never a dull moment….)
PRSO: Our first subscription concert, on Sept. 14th, had been pretty tame by contrast—a work by local composer Aponte-Ledee, Chopin's 1st piano concerto (Rubackyte) and Tchaikowsky #5, with Maximiano Valdes on the podium.
August 2013:
PRSO: Prior to the first subscription concert we were presenting the Festival Interamericano, with the premiere of a new opera by our local composer Carlos Vazquez, and other interesting works from the time we resumed work, on August 12th.
July 2013:
ClarinetFest 2013: was held in beautiful Assisi, Italy from the 24th to the 28th.
Here are a couple of my favorite pics of the dozens I took in this medieval city, home to St. Francis, of Assisi: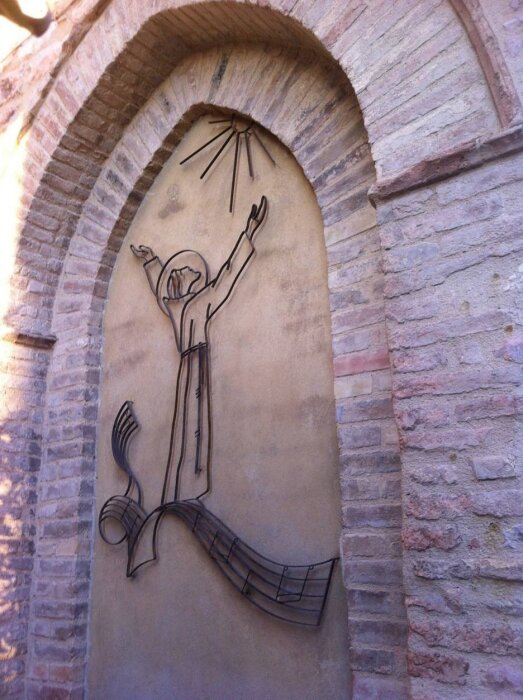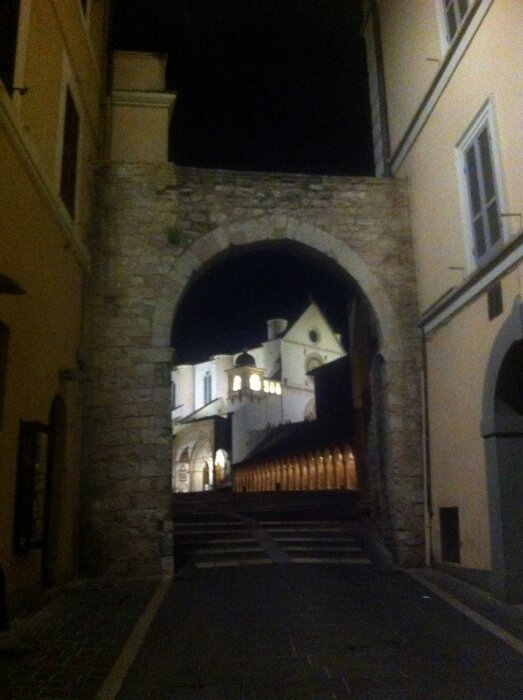 At ClarinetFest I presented a program called Portraits of St. Francis, with the appreciated assistance of Italian artists Paola Devoti, harpist, and Elena Cecconi, flutist. Our program was all world premieres, including works by Paola Devoti, Alberto Guidobaldi, and Howard Buss. That week was unusually hot in Assisi; we were very fortunate to have been assigned to perform on July 26th in an underground cellar, la Sala di Volti, which was not only extremely beautiful, with old Roman arches in the architecture, but also cool!!!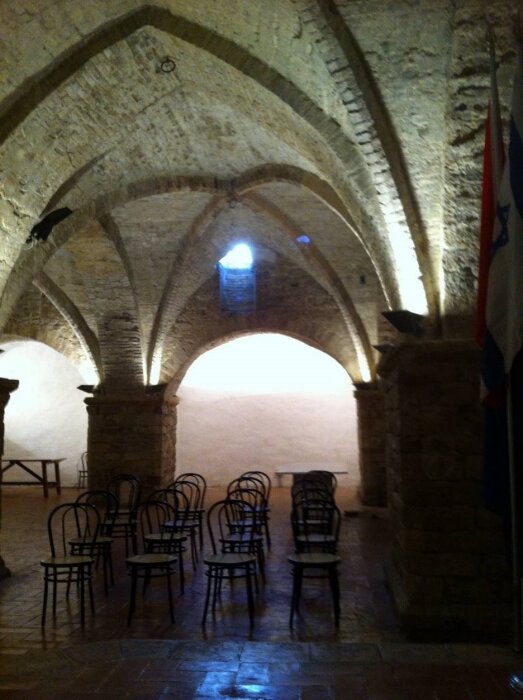 And here are Elena, myself and Paola, just after we finished our program.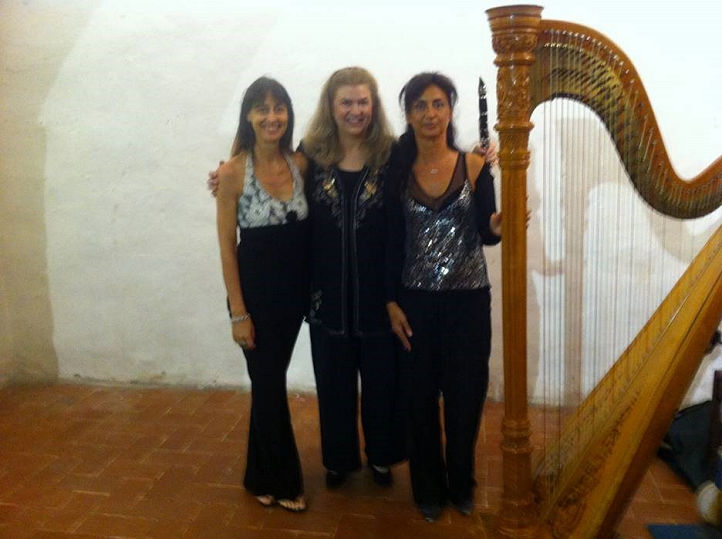 Keith Koons and the Sunshine Quartet played just after us in that beautiful setting.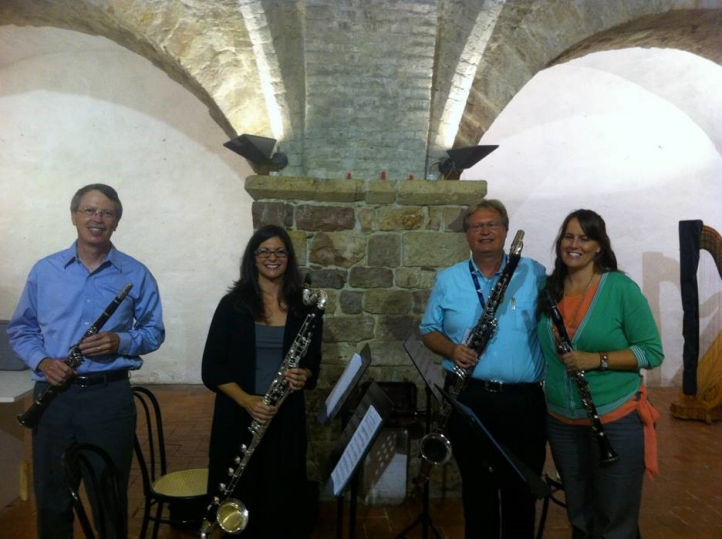 There was a street actor playing St. Francis—a nice encounter! The cards he gave me read:
"Do what You can and pray. God will do what You can't." and "Just be."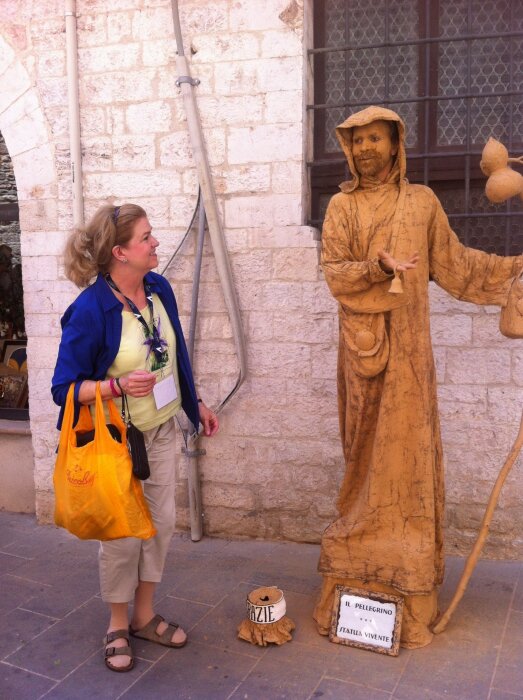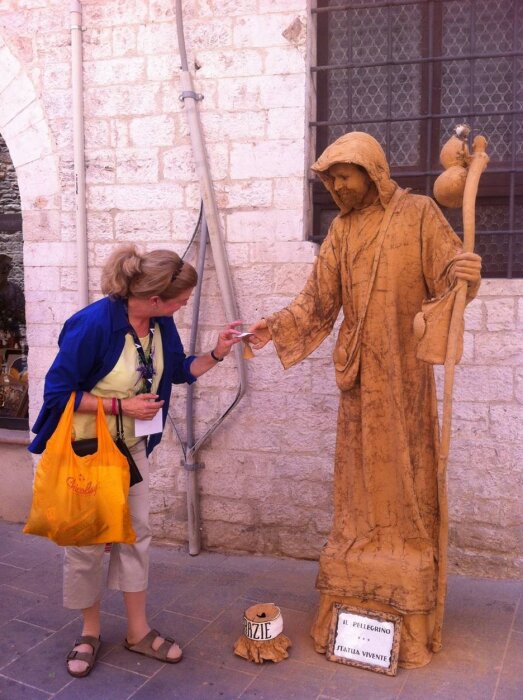 On Saturday the 27th I decided to walk up the mountain to the Eremo, an International Historic Site, where St. Francis spent much of his time in prayer. If I hadn't taken TWO bottles of water with me I don't think I would have made it to the top. The temperature that afternoon reached 95 degrees, tying the record for the hottest July 27th on record. Once arrived, however, it was well worth the walk—my composer friend Alberto Guidobaldi, Italian by birth, had told me that one had to walk up, not take a taxi. He was right. The beauty of the serene countryside viewed from high up on that hill was an experience I won't forget.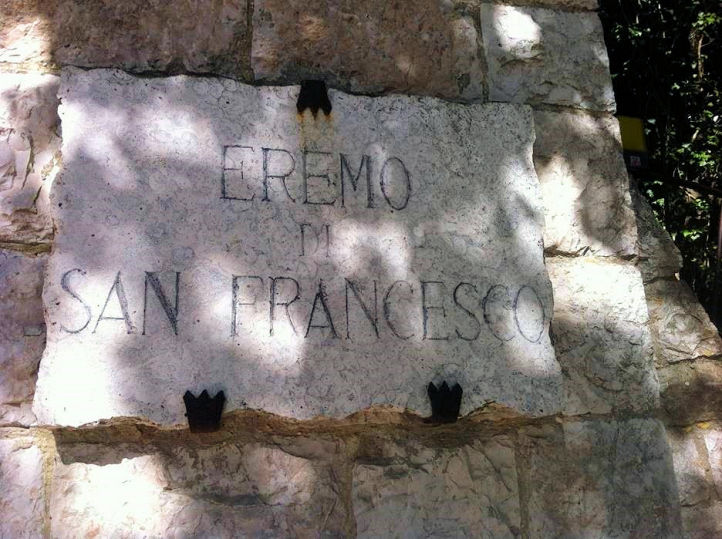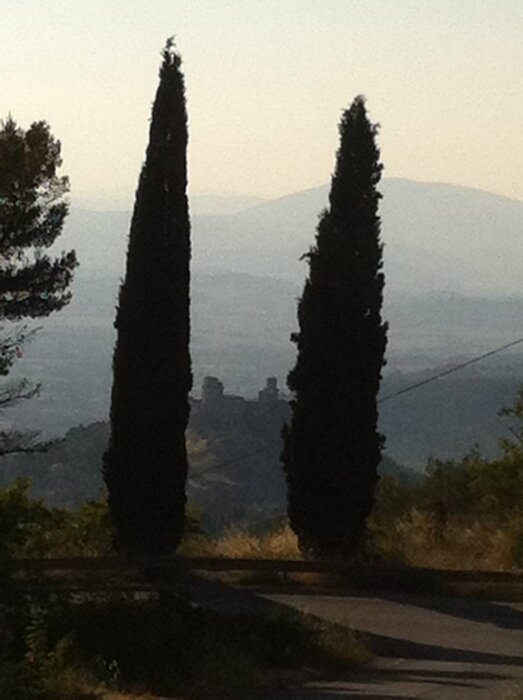 July 12th in Seattle: annual visit with Bill and Sue McColl